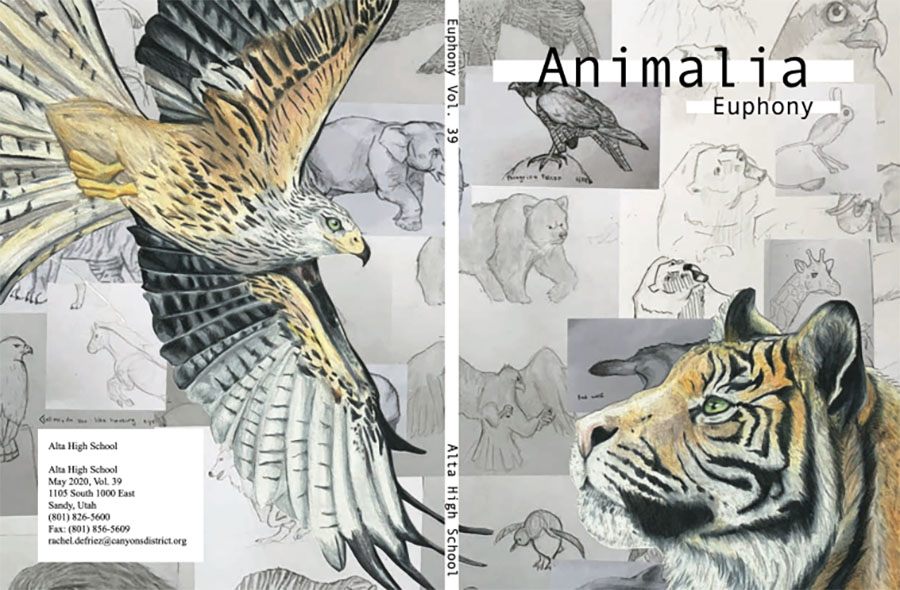 Winners of Flash Fiction "Plume Awards" Announced for Euphony
May 21, 2020
Senior Katie Drennan's short fiction piece "My Brother Stealed My Hot Wheels" is the Spring Plume Award Winner. Her story, along with fall winner Isabel Coleman will both be published in this year's edition of The Euphony, Alta's literary magazine.
Runners up in the spring competition were Jake Motzkus for Whatever It Takes, Ethan Johnson for The Kingdom, and Sebastian Quirones for An Unfortunate Lad.
Mrs. Rachel Defriez, Euphony Advisor, is pleased with this year's entries and all those who participated. "We had so many great stories," she said. "Many of them will be published in the literary magazine.
This year, the Euphony staff, with the generous support of Dr. McGill, is printing a copy of the magazine for all artists, authors, and poets who contributed.
---
Spring Winner
My Brother Stealed My Hot Wheels
By Katie Drennan
"Tommy, I have something for you!"
I runned into the kitchen.
Mom leaned down and said in a quiet voice, "It's something very special I've been saving for a very long time."
She handed me a little white box.
I pulled off the lid, and inside was A HOT WHEELS CAR! Yes!
"What do you say?"
"Oh, thank you!"
My mouth just couldn't stop smiling! It felt a little bit like Christmas. Because on Christmas is usually when I get cool new stuff.
I ran away speedy quick with my red car and he fell off of Couch Canyon.
"Pssshew! Ahh!"
I saved him and put him back in his home with the lid on top.
My brother James came in wearing church clothes. Probably gonna see that girl again.
"Where is it, where is it? Oh, this is not okay! Mom, have you seen the box?"
"I have a box!" I called.
"Oh, thanks Tommy!"
Then he stealed my Hot Wheels car in its home, and ran away to the front door!
"Mom! James took away my Hot Wheels!"
She was not listening.
"Mom? MOM!"
"I'll be there in a minute, Tommy!"
But who cares about that? Because when I came into the kitchen, I saw another box on the table!
I used my tip toes to grab it and then I opened it. And then I saw a pretty, shiny silver ring!
That's cool.
And then I closed the box.
I wish I had my Hot Wheels back.
---
Fall Winner
First Class Delivery
by Isabel Coleman
Leticia's eyes widened when she heard the knock. She dropped her whisk, nearly upsetting the bowl of cake batter.
It's him!
Running through her trim and tidy house, she didn't even bother to take off her apron. The person waiting on the porch wouldn't care. She was sure of it.
Leticia fumbled with the lock before flinging open the door, her smile as bright as the sun.
It wasn't him.
It was the mailman, clutching a small package. He looked nervous.
Leticia composed herself, abandoning the wild happiness she had embraced seconds ago. "Thank you, Mr. Thomas." She took the package. Mr. Thomas nodded and walked
away as she closed the door.
Leticia sat down with the package at her mahogany table. The return address was from France. Her heart rate sped up. Maybe…
Her face fell again when she saw the stamp in the corner. FIRST CLASS, it screamed. Nobody that she knew had money for first class mail during the war.
Leticia opened the box gingerly. Inside was a tiny sunflower pin with a note underneath it. She frowned. She knew that pin.
The note read:
This was all we found of him. We're sorry for your loss.
Leticia picked up the sunflower pin and crumpled into sobs, touching the matching one on her lapel.
Engraved in the center of her pin were the words: "For my beloved wife, whom I will love forever."