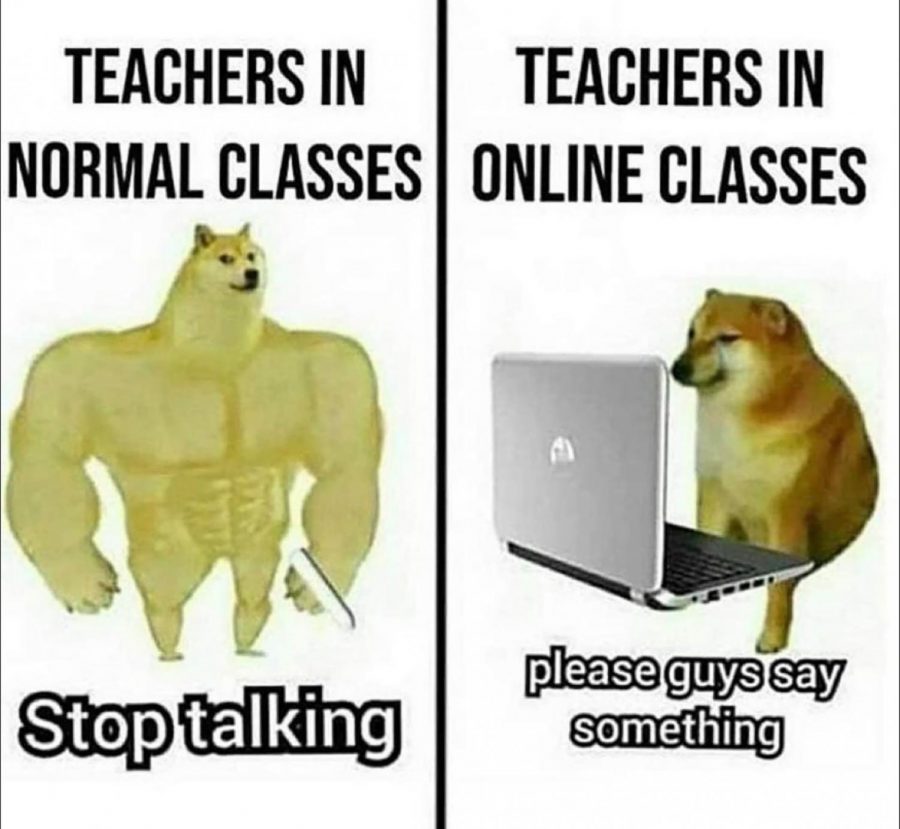 Online School: To Show Your Face, or Not Show Your Face? That is the Question
What is it about online school that causes students to lack the motivation to participate?
Why is it that kids always talk in class, but can never make a sound when it comes to online school?
When taking classes in-person students tend to love making conversation and chatting in the background. It seems that when they're in person they are more willing to answer questions.
It's the complete opposite for online classes, there is plenty of awkward silence because no one will say anything. Then there's the fact that none of the students will turn the camera on, so soon it becomes a blank screen where nobody says anything.
What is it that makes a difference in students' behaviors? Is it because nobody is actually paying attention, or because the atmosphere of online school affects the students? There are many different possible reasons why the students won't respond.
Many students could just be too lazy to respond to the questions, or they may just not know the answers. Other students might not want to risk talking over someone else. Then there are just the students who don't like participating in the in-person classes either.
Student Erin Fuller said, "I think the biggest thing that keeps kids from talking is just how it feels awkward. No one wants to be the first to participate, but once a conversation gets going, then it gets easier."
As for not turning on video cameras it could be that the students just don't want to show their faces, but there's also the more likely idea that most students aren't ready and look like they just rolled out of bed. This is especially true for the early morning classes.
When doing online classes it is especially necessary for students to communicate with the teachers. The difficult thing about this is that nobody wants to be the one person who asks a question, the first person to participate, or the only person to participate. What will make students more comfortable to speak in this school environment?
Teachers also feel the awkwardness of online teaching. They wish students would feel comfortable turning their cameras on and participating with the group. "Seeing student faces is better and helps me see if they are understanding content," said English teacher Kjersti Barlow. "I know students have cameras on their chromebooks, so I get annoyed when they tell me their camera doesn't work."