Alta's 2022 Art Show: One Of Alta's Most Impressive Yet
Alta's Art Show, one of Alta's largest and most impressive yet, showcased hundreds of unique pieces this week. With a collection of different mediums, styles, and stories, the art show allowed some of Alta's most artistic and talented students to present their artwork to the school.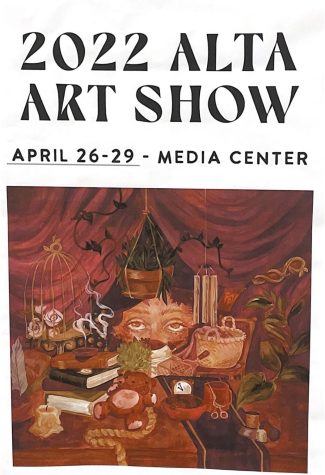 Art teacher Denise Crane is impressed by the quality of this year's art. We have five art teachers are participating and each submitted about 50 to 100 pieces to the art show. "This year has been very successful," Crane said. "We have showcased art from hundreds of students."
"
This part of the year is super satisfying for the students and the art teachers.
— Denise Crane
This year's artwork showcases all kinds of art from pottery to jewelry to paintings. "I love the large paintings; those were a collaborative group effort by four different students," continues Crane. "The AP works are really impressive."
Senior Ctherine DeBry created at seven pieces in the show. "My art is about trying to show death in less of a negative light," DeBry said. "It's a sustained investigation for my AP class and we had to pick a subject for our art so I chose death and grief. I feel that sad and dark art about death is a little overdone, so I wanted to show how it's a natural ending rather than the 'big bad'."
DeBry's pieces aren't the only pieces favored by students. Junior Sam Mazuran's photographs show how technology affects people. Mazuran took pictures of random people in Downtown Salt Lake. "It's a super great move for him to go down and take pictures of absolute strangers; it's super cool," Crane observed.
Crane also praised the posters that the graphics class produced. "We even have things from the drawing classes like dragon eyes which are all cool," she said. "There's art from the calligraphy class that has made haunted menus from haunted bed and breakfasts and then the individual letters are amazing.
Crane also lauded the outstanding jewelry pieces. "The quality this year has just gone above and beyond," Crane added. "All around there is a lot of work that is just so cool this year."
"The crazy thing is that this is only a portion of what the students have produced this year," Crane said. "You know the art show is just getting bigger and bigger every year and the work has been better and better every year, but I think that this year has just been outstanding.
Crane also thanked the students for their support of their teachers and the arts. "We get to see all of the students involved in art and excited about art where they can find their voice and express themselves," she said.
For those who haven't attended the art show yet the opportunity to attend still exists as the art show will conclude on Friday, April 29.