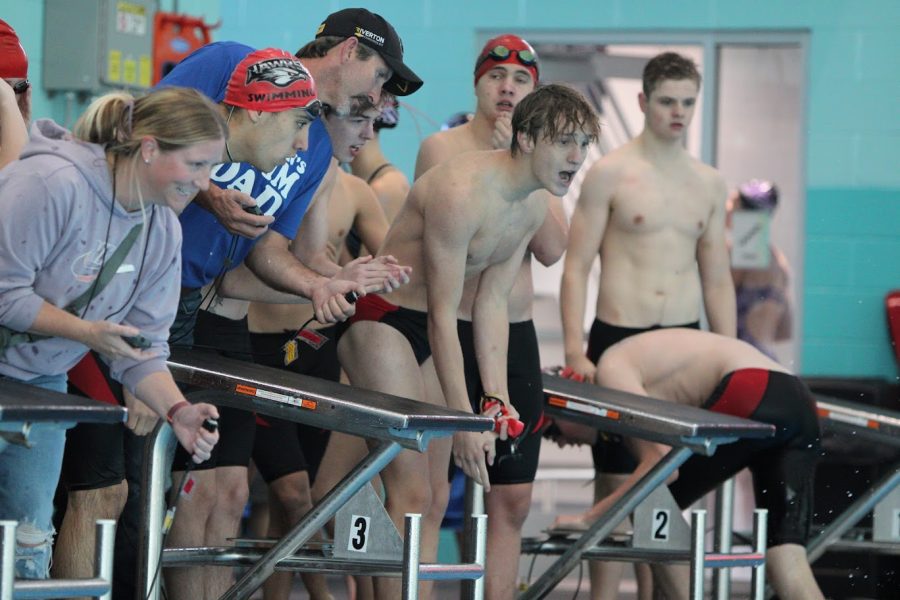 Alta Swim Wins Region; Heads to State Competition
Alta swim has been dominant so far this year. The hawks finished a perfect season last Tuesday, when they beat West on the road.
It wasn't an easy path to finish perfect however, the hawks raced past Hillcrest on senior night, before finishing with a tough road schedule against Lehi, Corner Canyon, and finally finishing at West. The hawks then moved on to region, where both the girls and guys carried on the streak of dominance.
The girls and boys both won region, along with a few record setting performances from some of the guys. A relay group of  Griffin Tasker, Tristin Taylor, Josh Smith, and Isaac Ridge broke a school record in the 400 free relay. Isaac stole the show however, setting four school records at regions, including the 200 free, and the 400 free.
"
It was really cool to be able to break those records. I've had my eyes set on a few of them for a very long time."
— Isaac Ridge
Isaac, a Junior, has been swimming since he was six years old, "I love the challenge of swimming," says Ridge. "Its difficult to train and keep improving but I wouldn't want it any other way. There's nothing more satisfying than being able to increase my speed and endurance, and see those results when I compete."
Ridge also takes pride in how the team has persevered this year, despite setbacks. "It hasn't been easy getting to this point. We had some injuries that set us back, along with losing some other people that didn't compete with the school this year," Ridge concluded.
One of those injuries was to Junior Griffin Tasker, whose knee surgery kept him out of the water for the first month of the season. "Its really cool to be able to go out and compete and set a record." says Tasker, "After I had surgery it took a lot for me to be able to get back in the water and be swimming again. I could have just given up, but I told myself that I would continue to fight, and go out and do everything to help my team win."
Tasker did just that, helping the team set a new school record in the 400 relay, and punching his own ticket to compete in state in the relays, and the 100 backstroke. "After what I've had to fight through, its really awesome to be able to race at state," says Tasker "I'm so excited for the energy at state, its unrivaled and a really special experience."
"
I'm so excited for the energy at state, its unrivaled and a really special experience."
— Griffin Tasker
Over 30 swimmers from Alta qualified to race at state at BYU on February 17th and 18th, whether in the relays or in solo events, and Isaac Ridge is excited to see them perform. "We've been killing it all season, and its gonna be fun to watch us keep it up at state to finish off a great season."