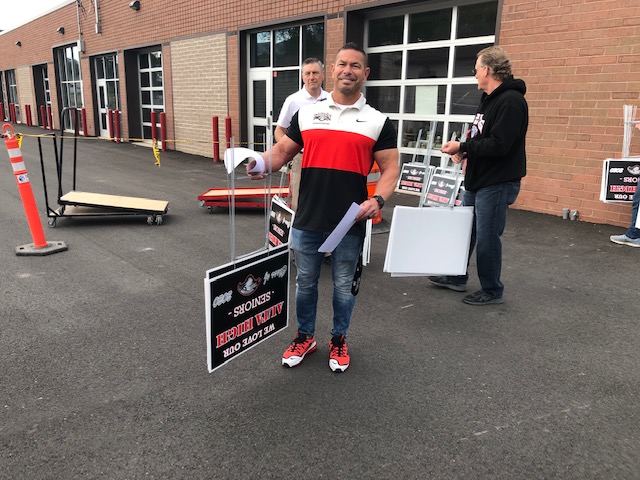 Yard Signs Delivered to Seniors Symbolic of a Group Hug
May 2, 2020
A couple of months ago, Alex Beekley was like all Alta seniors. She was working to finish her senior year and walk across the stage to receive her diploma. That all changed March 13th when Governor Gary Herbert announced a soft closure than ended up being a permanent closure of Utah schools. Alta teens miss their school, their classes, and especially their friends, so when Alex noticed a sign in her yard she felt "honored that someone or a group of people took time out of their day to create yard signs for the entire senior class" saying "We love our Alta Seniors."
Over 100 PTSA volunteers and school faculty descended on the Alta area delivering signs to 501 graduates last Friday. Vice principal Kelcey Kemp correlates the signs with a big group hug for the seniors. "This school soft closure has not been easy on anyone, especially the class of 2020. We hope they feel we care and share in their disappointment."
Not having the moment to graduate with your friends and share in happiness of 12 years of education is clearly disappointing. It's a tragic side effect of the social distancing brought on by the  Coronavirus. Everyone wants the seniors to feel appreciated for all of their hard work. School leaders know the yard sign initiative can't replace the traditional graduation ceremony, but they they want seniors to know they are recognized and valued for years and years of hard work to get to this point.
"We want to let all our seniors know we love them and care about them at this graduation time of year, said Principal Brian McGill. "We know these yard signs can't possibly replace graduation, but we wanted to celebrate them for reaching this milestone in their lives."
French teacher Rachel Defriez, one of the numerous volunteers, was enthusiastic to deliver signs and send the message of solidarity. "We care about our seniors and want this time of year to be memorable as much as possible. We hope the seniors feel that way. We truly wish them well as they advance to the next chapter in their lives."
It's no secret that not having a traditional graduation ceremony is a bit devastating to the class of 2020. Everyone from administrators, to teachers, to parents want the seniors to feel appreciated and have them know that they are not alone in this confusing time. The yard signs are a reminder to the seniors, and the entire student body, that they are loved and missed.
As for seniors, what did a yard sign placed in their front yard mean to them? Those interviewed felt appreciated. "I thought it was nice to know somebody was still thinking about us seniors," said Spencer Affleck. For Garret Reinholt it was a clear message that the "school cares about seniors and that they still support us."
For Alex Beekley, "it brought some joy and comfort" to the day and the graduation season.