Elyse Jessen breaks School Track Record by Three Seconds
Runner Elyse Jessen pushes through and sets meet record and smashes the school record in the 800 meter race.
For Elyse Jessen, running is a passion that has become a huge part of her life.
Elyse Jessen won the 800-meter run, one of her favorite events, with an amazing meet record of 2:08.99 at the Arcadia Invitational, one of the biggest High School track meets in the nation. She also broke Alta high schools record by nearly three seconds.
Some things that Elyse does to prepare herself for a meet is being in the right mindset.
"
"For me it's a lot more mental attitude, I need to remember it's just me against me"
— Elyse Jessen, Track Runner
When asked how she pushes herself to run past her opponents in a race, Elyse acknowledged that it's difficult. "You always have more in you that you think," she said. "I think back on all the hard work that got me where I am, and I push through it."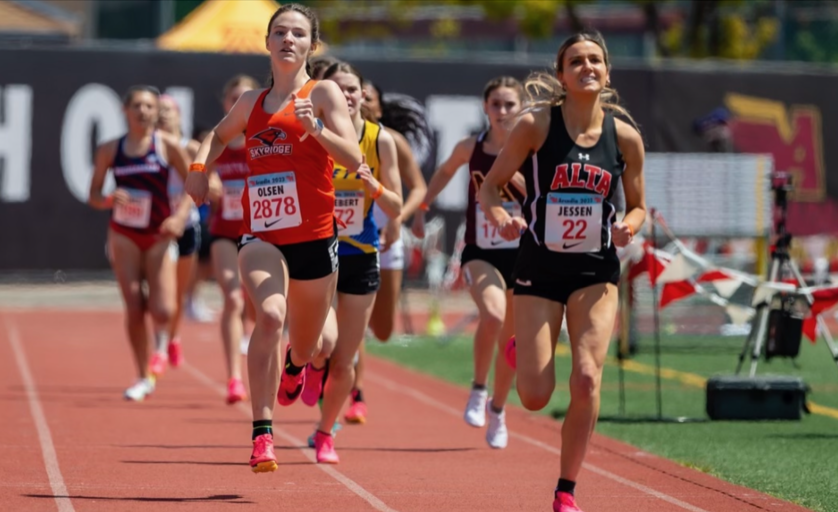 Becoming a college track athlete takes time and effort. Elyse trains every day except Sunday for one to two hours.  This keeps her ready and in shape for her meets.
Elyse said the California meet was particularly rewarding for her. Prior to the California meet, Elyse said she hadn't been getting the times she wanted.
"I worked very hard to get there which made it very frustrating," she said. "I went into the meet with a positive attitude, and it really paid off."
Elyse is a great example of someone pushing herself to do better, even when she struggles. "She's one to put in effort to get things done," said Track Coach Becca Bennion. "Elyse puts a lot of focus and soul into what she does. She put it all on the line at the race, and it paid off."
BYU's women's track coach Diljeet Taylor saw something in Elyse to invite her to attend BYU on a track scholarship. Elyse said, "Coach Taylor saw something in me and my form. She believes in me."
Elyse has come a long way in a few short years. She remembers she was just barely getting into track and soccer, and wasn't expecting to do these runs, but she has now broken the school record.
Elyse's advise to someone wanting to improve in a given sport is to not give up, have the right head space, and to put forth effort. By doing all these things, it can help you become a better athlete.