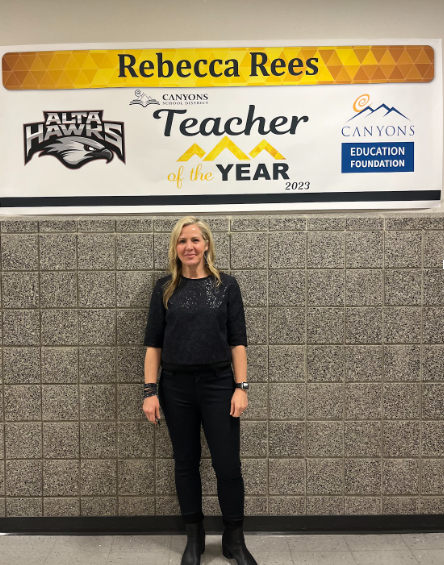 Mrs. Rees wins Teacher of the Year!
For 2023 Teacher of the Year, Becky Rees, teaching is her passion. It was no surprise that students, teachers, and administrators chose Mrs. Rees for Alta High School's teacher of the year. She possesses all the best qualities to be a good teacher.
Mrs. Rees was thrilled and so grateful to be chosen to represent Alta for Canyons District Teacher of the Year. "I was not expecting it… not in a million years," she said. "It was a very nice and humbling thing that someone would think of me." 
One thing students love about Mrs. Rees is her ability to connect with students and students feel they can talk to her about anything.
"I love how involved she is with her students," Brinn Hadean said. "She keeps expectations in her classroom realistic while still making sure everyone puts in their best efforts."
"
She genuinely loves the students, and the students genuinely love her.
— Mr. Uluave
Mrs. Rees teaches government and humanities.  Many students have expressed that they can feel Rees's passion when she is teaching these subjects. Seeing how much their teacher cares about the subject they teach motivates and interests students in what is being taught.
The staff has also seen this portrayed in her classroom. "When you walk into her classroom you can immediately feel the love," Vice Principal Kalisi Uluave said. "She genuinely loves the students, and the students genuinely love her."
Becca McDaniel, an Alta senior, has had Mrs. Rees for two years. She explained how Mrs. Rees is very passionate about what she does. She continued, saying, "She cares for all of her students."
It is important to Mrs. Rees that all of her students succeed in everything that they do. So, she is always willing to help out their students so they can be the best that they can be.
Hesitation is never a problem for her. Sarah Atkinson feels that Mrs. Rees is always there to lend out a helping hand. "I truly believe that our success is her number one goal," she said.