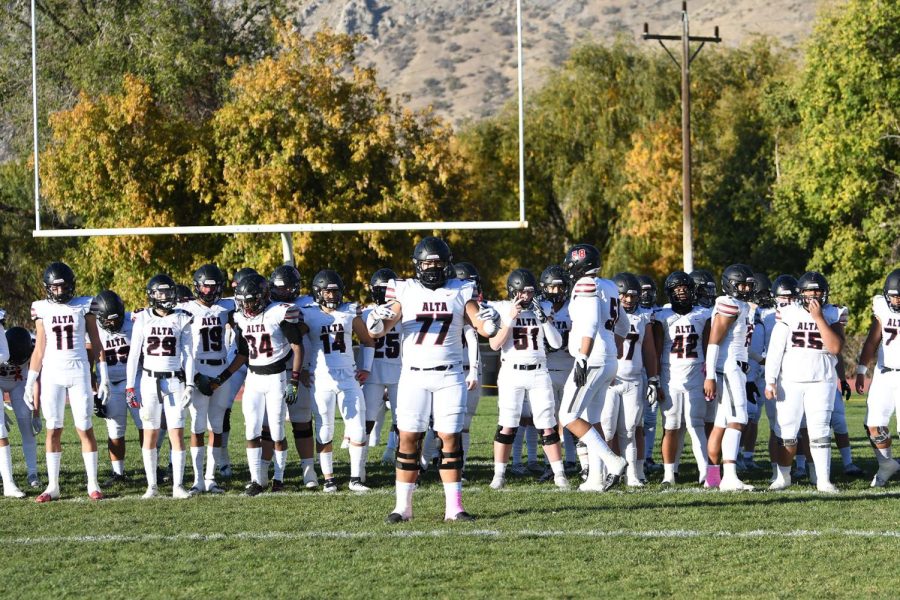 Alta Prepares for the Coming Football Season
Alta Football Prepares for their Competition
With football season just a few months away, the Hawks are getting back into it!
The team has been training for the entire off season, running routes, team lifts, and competitions. Over the off season the Hawks would wake up early on B-days and make their way to school by 6:30 AM to workout. The team will workout for about an hour before school starts.
Abe Jager who is a wide receiver for Alta said "Waking up is the hard part, once you get here it's all about the work."
The team has also been having their own practices to prepare for next year. They will meet almost every weekend to run routes and learn the offense. Matt Mkea says "This is the preparation for the fun part, that comes with pads." Matt is the starting quarterback for the Hawks and is going into his junior year. 
The Hawks have also started 7 on 7 tournaments. The team will play games with 7 people against 7 people, no lineman. In these games you can only pass the ball and it is two hand touch. The quarterback had 4 seconds to throw the ball or the play is whistled dead and called a sack. "it's a great way to show coaches what you can do, even without the pads these games get chippy." said player Asher Merril. The Hawks have played two tournaments already and are preparing for more. 
Along with the 7 on 7 games, there are also 5 on 5 games that feature the lineman. In these games the lineman go head to head to see who is the stronger, more agile lineman. They go one by one against each other to showcase their ability. lineman Seth Watson said, "it's a super fun way to compete with another player and see your strengths as well as weaknesses." The way the games work is, the defense tries to get to the quarterback before 3 seconds, as the offense tries to keep them away. 
The next tournament for the Hawks is the reign tournament on the first weekend of may. This tournament features a large variety of teams from around the nation. Teams from Colorado, California, Texas, and many other states are coming to Utah to participate in this tournament.
Offensive coordinator Nick Robbins said, "it's a great opportunity to put Utah on the map." Utah has a chance to show that our teams can compete with the powerhouse states of Texas and California.