Alta Art Showcase 2023
Childhood art projects turn professional when Alta art students are involved. This year's traditional Chalk the Walk's theme of "birds" allowed the creativity to flow from the brain to hands and then on to the cement.
Students get together in pairs of two and use chalk to draw something that connects with the theme. It can be abstract, simple, surreal, minimalist, or/and even just pop art. Art teacher Denise Crane is excited to see what students can do with a theme, chalk, and a square of the courtyard patio.
Bridget Brown and Heidi Hansen worked together to create their masterpiece.  "It's fun being out here in the nice weather and it's a good experience since we're in AP Art together," said. They agree it's nice to miss classes to do something they love.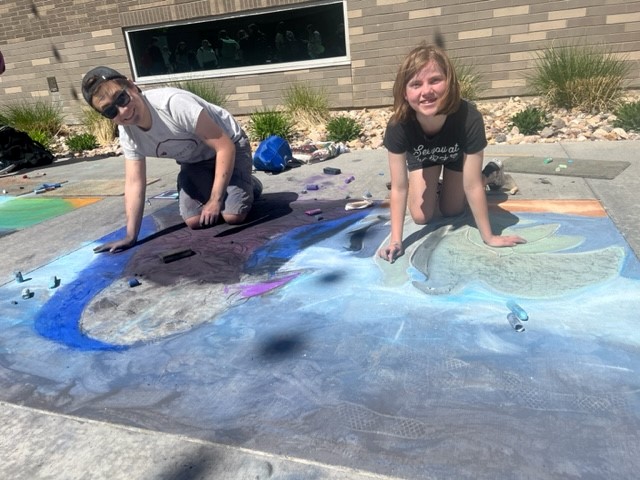 Senior Alex Liljenquist and Junior Ruby Gardner teamed up a for an end of year " messy and fun" memory. "We like the little looser style which is easier to use with chalk. And the colors are vibrant and pretty," Liljenquist said. "We're in AP together with a ton of friends and wanted to "We like spending time together on a worthwhile project."
Aside from Chalk the Walk, students also showcased their favorite art pieces in this year's Alta Art Show. The 2023 art show featured illustrations, painting, photography, digital art, and jewelry. This year was more focused on realism and experimentation with colors.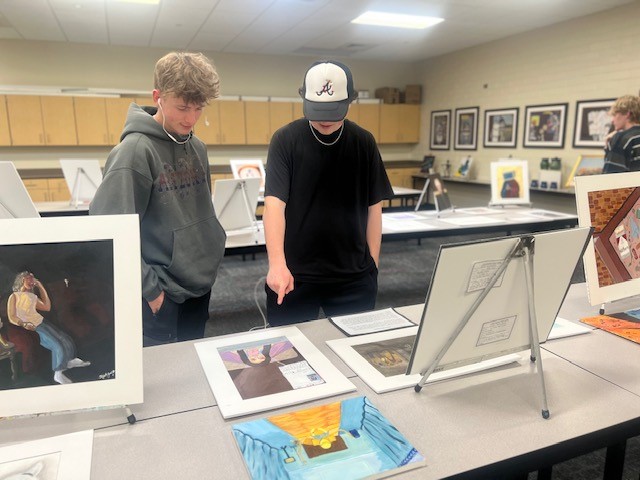 Crane said it's important to display students' art works. "Inspiring artists can see what others have done and get inspired to create themselves," she said. "Student artists work hard all year long, so it's their opportunity to share it."
Crane feels the art programs are strong at Alta. "Students can experiment and reach their potential in many areas," Crane said.
Ceramics teacher Albert Spencer-Wise said it's important to create an independent environment where students really do the projects themselves. "The students deserve their work to be seen," he said. "I want to allow others to see it, giving them pride and reasoning that it's something worth doing.
It's pretty amazing to come in and play in the mud, it's truly art therapy," Spencer-wise said.
Sophomore Janelle Aguirre whose digital art was featured in the Alta art show enjoyed sharing her art with others. "It gives us satisfaction seeing others appreciate what artists do," she said.
To showcase students' artwork and to display students creativity Sophomore Sophia Smith recognizes that so many athletes get recognition, so it's nice for artists to get some attention too. "I love that students can come see how talented the students at the school can be."