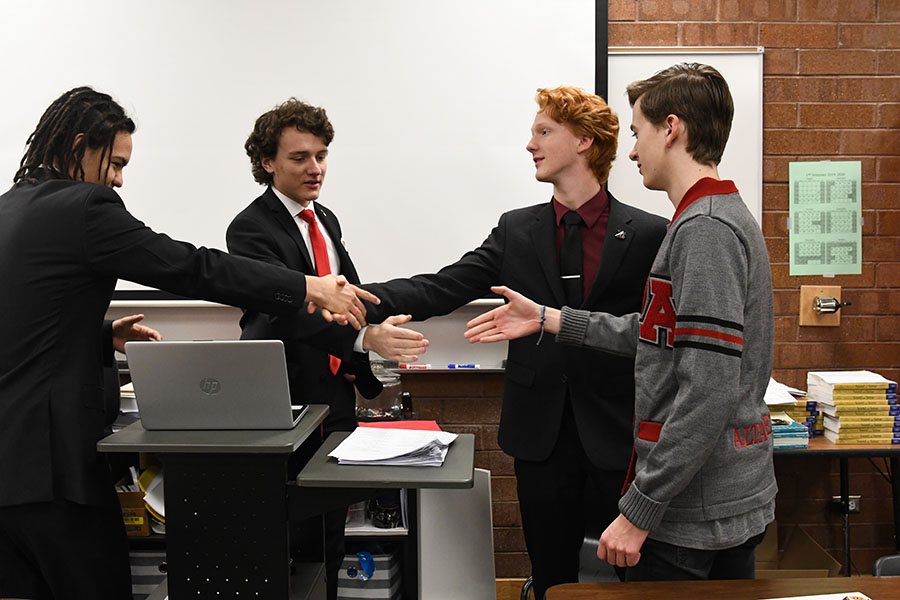 Debate Team Flourishes at this Year's Competitions
Debaters take on the Competition one Debate Tournament at a Time and Emerge Victorious
April 4, 2020
Success hit the Alta Debate Team during the competition season this year!
Due to a new teacher the last two years there has been a change in the success levels of the team. Now at nearly every tournament the team manages to take first place in sweeps and blow the competition out of the water.
A senior on the team Cody Park stated that when he found out the team had won sweeps for the first time he felt it was "achievable.". He said that before, "Alta was mocked but now other schools know we can kick some butt." Now they think "Oh no, it's Alta."
This year the team managed to win first place in sweeps at nearly every tournament. Some outstanding competitors were Daniel Ross, Ian Whatley, Davidson Pierson, Isabel Phillips, Jaxson Baker, Reese Reynolds, Merrin Maughan, and many others.
Not only has the team now become more successful, but they have become a giant debate family. Many of the members of the team believe that it is full of people they love and are able to relate to.
When asked how they feel about the team, Merrin Maughan and Mia Jones said, "they're like my second family."
Alishia Ruiz said, "I like to hype them up", when asked what she does to help and inspire the team.
The team and coach are all very supportive of each other. Because of this they have managed to flourish. The coach of the team, Sydnie Schoepf, stated, "
"
My team is a group of incredible individuals that make my job easy and tournaments fun. I wouldn't change a thing – my kids are awesome."
— Sydnie Schoepf
This year the Alta debate team has become a driving force that is only going to continue to get better.