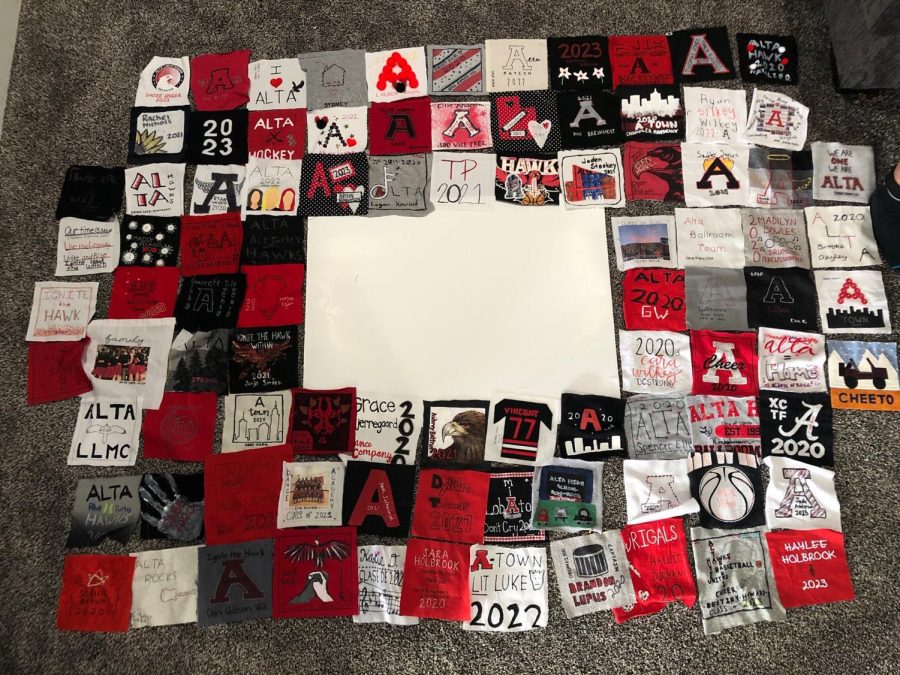 Alta Quilt Connects Students One Block at a Time
During the confusing and lonely time of the coronavirus pandemic, a few Alta students have taken it upon themselves to bring unity back to Alta through a creative art project: a quilt.
Gabe Crestani, Parker Fenton and Ella Rees came up with the brilliant idea of creating an Alta quilt with blocks donated by students.
"
The purpose of the blanket was to help the students know that even through these hard times we are still one. We are still Alta."
— Parker Fenton
Quilts are symbols of warmth and unity, so this project brings together those feelings felt by students, Rees added. "It unites us all and is a symbol of our school unity even though we are all struggling to get through this period of isolation," she said.
Each square is 6 in by 6 in and Gabe's mother, Mrs. Marla Crestani, graciously dedicated her time and energy to piece the 100-block quilt together. Each student used his or her own fabric to create their block. Even old Alta t-shirts, jerseys, and pieces of cheer or costume fabric have gone into the quilt.
Students are using this opportunity to express their unique personalities and hobbies. Gabe said that his favorite part of the Alta quilt project has been "seeing peoples' ideas" and hard work put into their squares.
The students spread word about the Alta quilt through social media. This exciting new project even caught the ear of the show "Good Things Utah."
It hasn't been decided yet where the quilt will hang once completed. The students hope to display the quilt somewhere either in the new commons or PAC.
"This quilt will be a memory of how Alta students united to find strength with each other during the Pandemic and it will be a part of Alta for years to come," said Mrs. Crestani. "It marks a period of history."