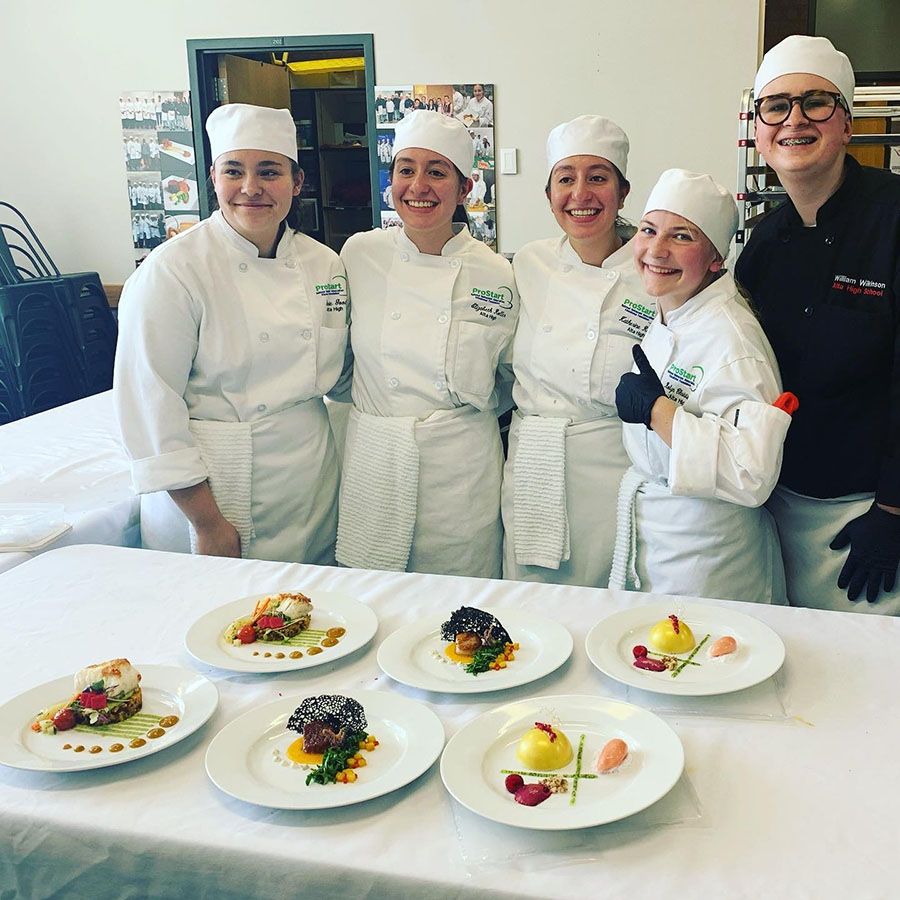 Prostart Takes State for the Second Year in a Row
Hard Work, Dedication, and Long Hours Pay Off for Prostart Team
May 8, 2020
"
This team shared the same impressive work ethic and were united as a team and kind towards each other."
— Mrs. Rachel Farmer
The TV show Top Chef better watch out because the Alta Prostart team is coming in hot! They placed first place in the state for the second year in a row at the end of March.
The team overcame obstacles right from the start because the competition was almost cancelled because of concerns over Covid-19. They were able to compete and show their hard work, but their families and friends had to go home and could not watch. "It was bittersweet," said advisor Rachel Farmer, "but in the end they earned the title of state champs!"
Because of travel restrictions in place for students and schools, the team will not be travelling to the national competition. "We'll never know how they would have done," said Mrs. Farmer. But one of the chefs told Mrs. Farmer he thought the team had  good chance of winning the national award.
Mrs. Farmer is proud of this year's team because "they shared an impressive work ethic, were united as a team, and were kind towards each other. The team is comprised of students Katherine Roller, Elizabeth Roller, William Wilkinson, Marie Good, and Robyn Christiansen.
The students all agreed that competing was both exciting and nerve racking but they let the good times 'roll'.
"The best part about competing was the excitement we all felt as a team going into the competitions," explained team member Katherine Roller. "Don't get me wrong, we were all really nervous, but we had worked extremely hard to get to where we were and having the support from the chefs that we had worked with along the way really helped build our confidence going in."
The team proved that hard work pays off. They put countless hours into revising and perfecting their dishes so they were just right when the state competition rolled around.
Culinary artist Elizabeth Roller said, "The hardest part of competing was how many hours we put in. We practiced at least 10 hours a week, had many late nights, and you can't even imagine how many dishes we had to wash after every practice!"
Robyn Christiansen said she learned the value of communicating. "With all of us in a 10 x 10 square, we had to know who was where and when," she said. "Working and competing as part of a team was the best part of competition."
The culinary team prepared a three course meal. The appetizer was a delicious Squid and Scallop Salad. The entrée was Seared Chilean Sea Bass. For dessert there was Vanilla Bean Mousse.
ProStart teams everywhere 'butter' look out! This team is on a "roll" and will keep working to perfect their skills and a new team will form next year and give the state and national competitions another shot.