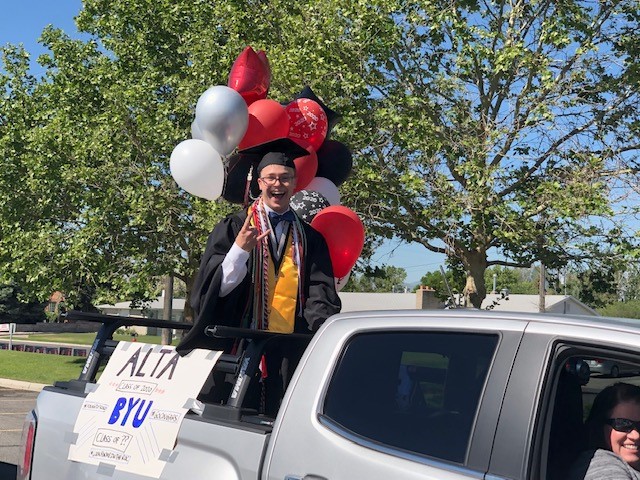 Graduation Parade brings a Delightful End to the School Year
Faculty and Staff Love the Celebratory Atmosphere the Graduation Parade Brought to End this School Year
May 29, 2020
Not even Covid-19 could stop this year's final Graduation Day Parade to celebrate this milestone in the lives of this year's Alta graduates. Cars decorated around a celebratory graduation theme filled with happy graduates and their families combined to make the first ever drive by graduation memorable and fun for all involved.
This year's faculty lined the student parking lot to send this year's graduates off in style. At the end of the parade, graduates posed for photos, turned in their graduation gown, and received their diplomas.
The parade began promptly at 10 a.m. with Dr. Brian McGill and his graduate daughter Miken leading the way. Some three hours and 40 minutes later, the last graduate cruised through.
Most everyone participated according to head counselor Christine Astle who noted just a handful of diplomas were left unclaimed. That speaks volumes about the success of the event. The atmosphere was celebratory and fun and that was the goal, she said.
"We wanted to give these graduates the celebration they deserve," McGill said. "I think we accomplished that."
Administrators and teachers alike loved being able to connect with students one last time. McGill especially enjoyed being able to speak to every senior and their parents one by one at the end of the parade. "You don't get that in a traditional 'formal' on the stage graduation," he said. "I enjoyed the atmosphere and how fun it was for everyone involved."
For the students, it was an opportunity to connect one last time with teachers they haven't seen for a couple of months. "I loved seeing all the teachers I imagined would sign my yearbook," said graduate Garrett Tilt. "How serendipitous!"
This year's senior class officers, in a letter of thanks to the faculty and staff, noted that even though they didn't get to participate in the traditional year end activities, they felt their class "has been given more than any before.
"You all have done so much for us and we want you to know that it did not go unnoticed," the letter said. "Each of your individual efforts have helped make our graduation experience very special."
There was definitely something special about the parade. Coach Izzy Gustafson loved it all; I loved the "cars, the amount of energy from the faculty and the grads."
The teachers also loved the celebratory atmosphere the parade brought to the end of a difficult school year.  English teacher Amanda Siler especially loved the decorated cars and seeing happiness radiating from this year's graduates. "It felt like a celebration rather than a stiff formal event," she said. "I liked that."
Others loved the personal touch and being able to wish each graduate well as they embark on new and exciting futures. "I loved how we were able to see all of the students, engage with their parents, and watch them graduate in a comfortable setting," said history teacher Matt Schilling. "I wish we could do this every year."
English teacher Katie Wilkinson enjoyed celebrating with the parents as well as the students. "It's their graduation too," she said. "They have been with their children and worked hard for the last 12 years right by their sides."
Who knows, perhaps the Covid-19 Pandemic has a silver lining after all when it comes to graduation ceremonies; new traditions may spring from this unique and untraditional end to this school year.