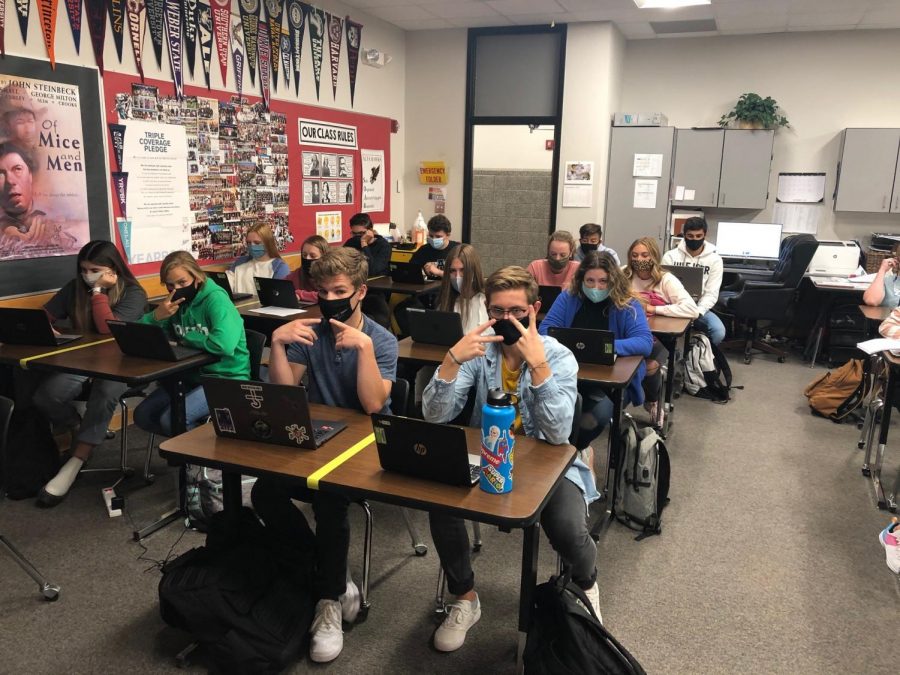 Students Opt for a Variety of Options for School: In-class and Online
After five months of not coming to school due to Covid-19, students have a variety of options regarding education this year; they can take classes in person, online, or a combination of both. 
Out of the 2,350 students enrolled in Alta this year, a whopping 1,775 students are coming to school in person full time and 478 are doing both online and in-person classes. Out of the remaining 97 students 58 have opted for only online classes many of which simply due to health complications while the final 39 are being home schooled with help and resources supplied by Canyons School District. 
Some students didn't have a choice on what option they chose because of health issues and couldn't come in person, or they may have had to come back because the classes that they wanted to take weren't available for online school said Head Counselor Christine Astle. "Some students have mentioned they feel online is more efficient," she said. "Others feel they have a higher level of understanding in person."
Student Allie Kallen specifically mentioned the social aspect of school was a factor in her decision. "I wanted to be able to interact with my friends and see my favorite teachers again. It's also easier to understand a subject when someone is able to talk to you face to face and explain it. Then there's the fact that many of the classes I wanted and needed to take aren't offered online."
Many other students felt the same way about coming back. "I want the social aspect of coming back to school, being able to interact with the other students in my classes. Sara Riches said. "It's nice to be able to see my friends in person again. It's also easier to focus in my classes when they're in person, it allows me to learn the subject being taught better."
The need to be social and communicate with other people again was high on the list as to why students chose to come back for in-person school.
Junior Carly Torres is taking both online and in-person classes. She likes being able to move at her own pace with online classes and at the same time she also likes to be in school with others for certain subjects so she can ask the teacher questions. "I feel I learn better in a face to face situations," Torres said. "I actually enjoy learning in both formats: in-school and online."
Covid has done one thing …. it has given students options to personalize their learning. From the data, it's obvious that students overwhelmingly want to connect with others both socially and educationally if possible.