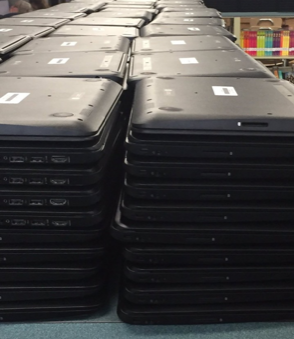 One to One Technology a Reality for Students
The phrase "one to one" may mean something different to many people, but at Alta it means one computer in the hands of each student.
The main reason the school moved in this direction was to eliminate the spread of viruses, namely covid-19, and provide access and equity with online content to all students. Alta had to find new ways for students and teachers to work with each other to maintain social distancing and covid protocols while continuing school in the event of a shutdown.
Students no longer have to stand in line to get a chromebook in class and they don't have to touch unsanitized chromebooks that have been used by someone else the class period before. Given social distancing and the emphasis on cleanliness and sanitation, it just made sense to go one to one with technology according to school Principal Brian McGill. "We have invested a lot of time and resources to make this happen for our students," McGill said. "I am confident it will have a positive impact on the overall preparedness and academic success of our individual students and the school as a whole."
Getting the computers out of the chromebook carts and adding several hundred new computers to the inventory was no easy task. According to technology supervisor Seth Clark and Media Center Coordinator Jenny Olsen disabling and reformatting all of the new and pre-existing chromebooks took much time and effort for all involved and many people came together to achieve this goal. Chromebooks were even issued "drive by style" two days before school started to get a jump on it. 
"If it was only one or two of us it would have been next to impossible; teamwork was the key," Clark said. "A lot of people worked together to make this massive undertaking happen."
Olsen notes that over 1800 students have checked out a chromebook from the media center. Many other students are using their own devices. All students should have a digital connection for classwork both at school and at home."
It took much effort but the students seem to be appreciative of this change and in the event of a school shutdown, students and teachers will be better prepared to keep classes running virtually.
One to one chromebooks at school is a change and it will take time for everyone to get in the groove. Many students believe having their own chromebook helps them stay more organized and be more efficient in all their classes. Because they have a chromebook at their fingertips, they can make better use of advisory time and other times during the day when extra time presents itself.
For Senior Beth Sutherland, the biggest perk is not having to wait in line to get a chromebook in a given class and then having to wait in line to put it away. Junior Colter Gerke likes having a chromebook at his fingertips anytime so he can work on homework during advisory. Kylie Garrett loves the fact that she "knows where it is at all times and it won't get lost."
"It seems that teachers give less homework," said Xander Hoover when asked how he felt about schoolwork on chromebooks.
Although students are finding the chromebooks good resources for learning this does not change the fact some students still prefer paper assignments. Some students may also find the assignments hard to turn in or manage. "It is nice to have a chromebook but I still prefer paper," said student Judd Peterson. 
Although not much time has passed since the beginning of school and distribution and use of the chromebooks, they seem to be having a positive impact on the classroom environment and the participation of students who are doing in-class and online school.
"I like being able to do homework during advisory. My chromebook is available and I have more freedom with my schedule and using available time" stated Hanna Shumann