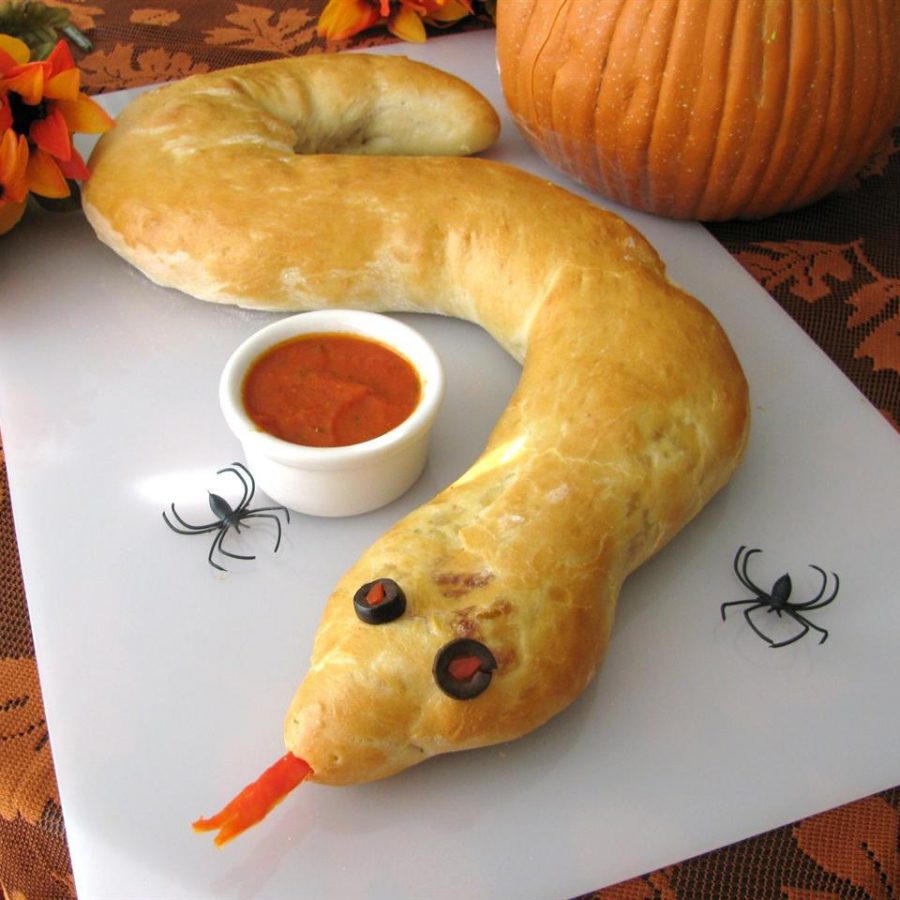 Halloween Recipes For This Fall
Halloween Treats You can Make at Home
With the weather getting colder, fall holidays are right around the corner especially Halloween. So in celebration, here are three fun recipes to bake this Halloween.
The first one is Snake Calzone. This good recipe for a party or a gathering because it can serve up to 14 people. For the dough of this recipe you will need:
1 teaspoon white sugar

1 cup warm water (110 degrees F/45 degrees C)

1 (.25 ounce) package active dry yeast

2 tablespoons olive oil

1 ½ teaspoon kosher salt

3 cups all-purpose flour, divided
Start with dissolving the sugar in the warm water in the bowl of a stand mixer. Sprinkle the yeast over the water, and let stand for 5 minutes until the yeast softens and begins to form bubbles on the top layer. Stir in the oil, salt, and only 2 cups of flour, and mix on low until the mixture forms a wet dough. With the machine running, add 1 cup of flour, 1/4 cup at a time, and knead until the dough pulls away from the sides of the bowl into a ball. Knead for 3 to 5 more minutes, until the dough is smooth and elastic.
Next, lightly oil a large bowl. Then place the dough in the bowl and turn to coat with oil. Cover with a light cloth and let rise in a warm place (80 to 95 degrees F ) until doubled in volume, about 1 hour. 
For the filling you are going to need: 
1 cup ricotta cheese

2 cups shredded mozzarella cheese

¼ cup grated Parmesan cheese, or to taste

1 (4 ounces) package sliced pepperoni

1 tablespoon chopped fresh parsley

½ teaspoon Italian seasoning

½ cup sliced black olives

½ green bell pepper, cut into strips

½ cup sliced fresh mushrooms

1 egg

1 tablespoon water
Mix the ricotta, mozzarella, and Parmesan cheeses, pepperoni, parsley, Italian seasoning, olives, green pepper, and mushrooms in a large bowl, and set aside.
Preheat the oven to 375 degrees F (190 degrees C). Line a baking sheet with parchment paper.
Punch down the dough, and roll it out into a long, flat strip about 9 inches wide by 30 inches long. Spoon the filling mixture down the center of the dough strip, leaving about 1 inch on all sides for sealing. Pull edges of the dough together; pinch to seal and form a long, filled roll. Place the roll, seam side down, onto the parchment paper in a snakey "S" shape, and tuck the ends underneath to seal. Beat the egg in a bowl with 1 tablespoon of water, and brush the egg wash over the calzone. 
Bake in the preheated oven for 30 to 35 minutes, until the calzone is golden brown. Let cool for 5 minutes before cutting into individual slices.
The next one is really fun and simple but you can also shape it into whatever you want. This one is Meringue Bones, you are going to need
2 large egg whites large egg whites

2 drops fresh lemon juice, or more to taste

7 tablespoons white sugar, or more to taste

2 eaches chocolate chips, melted, or as needed
Start by preheating the oven to 225 degrees F (110 degrees C). Line 2 baking sheets with silicone baking mats.
Whisk eggs whites and lemon juice together in a bowl until thick, white, and foamy. Add sugar a spoonful at a time, whisking constantly, until meringue is shiny, thick, and holds its shape.
Transfer meringue to a piping bag. Pipe 12 bone shapes or whatever you want onto a prepared baking sheet.
Bake in the preheated oven until dried and firm, about 1 hour. But be careful and watch them closely because they burn very easily. Then turn off the oven, close the door, and cool until completely dried, about 1 hour more.
Dip the tip of a toothpick into melted chocolate to add fun details to your creations.
Last but most definitely least is Ghost Cookies. Cuter then creepy, these cookies are fun to eat and make. To start you will need:
1 cup butter

1 ½ cups confectioners' sugar

1 egg

1 teaspoon vanilla extract

2 ½ cups all-purpose flour

1 teaspoon baking soda

1 teaspoon cream of tartar

¼ teaspoon salt
Beat butter in a bowl with an electric mixer until creamy. Add 1 1/2 cups confectioners' sugar gradually, beating for 2-3 minutes or until light and fluffy. Beat in egg and 1 teaspoon vanilla extract.
Combine flour, baking soda, cream of tartar, and salt in a second bowl. Add flour mixture to the creamed butter mixture and mix to combine. Wrap in plastic wrap and chill in the refrigerator for at least 1 hour. 
Preheat the oven to 400 degrees F (200 degrees C). Dust a work surface with flour and roll out the dough into a thin circle. Cut out tulip shapes; if your tulip cookie cutter has a stem, cut the stem off with a knife, so you have a stemless tulip shape. Arrange cut-out cookies on ungreased baking sheets. 
Bake in the preheated oven until lightly browned, 6 to 8 minutes. Remove from baking sheets carefully and transfer to wire racks. Cool completely, about 15 minutes.
Next for the icing, you will also need:
1 cup confectioners' sugar

2 teaspoons milk, plus more if needed

2 teaspoons light corn syrup or more as needed

¼ teaspoon vanilla extract

1 (12 ounces) package miniature semisweet chocolate chips
Stir 1 cup confectioners' sugar and milk together in a small bowl until smooth. Beat in corn syrup and 1/4 teaspoon vanilla extract until icing is smooth and glossy. Add more corn syrup if the icing is too thick.

Spoon icing into a piping bag with a small plain tip. Pipe icing around the edge of each cookie to create a border. Fill in the middle completely with icing. Stick 2 chocolate chip cookies into the wet icing for the eyes. Let cookies stand until icing dries, about 1 hour. Enjoy!