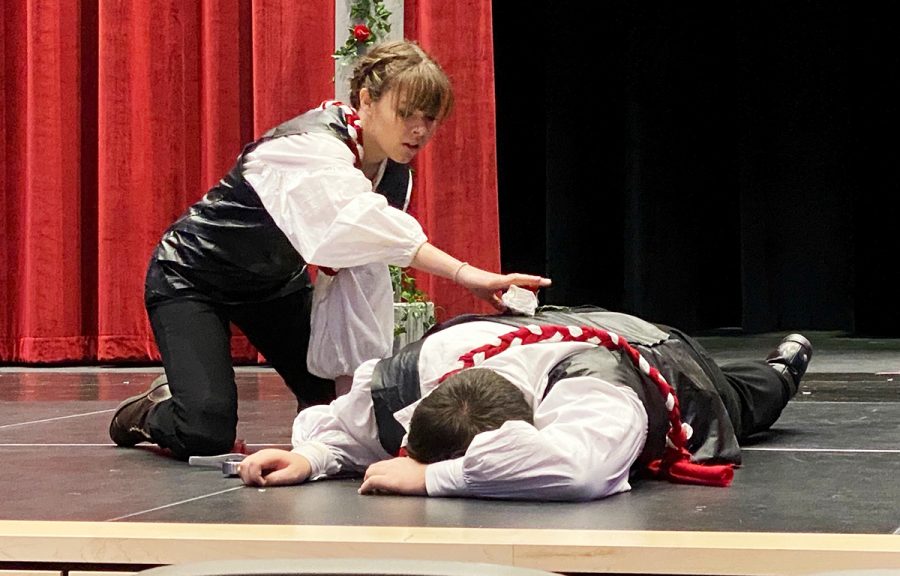 Shakespeare Performances will be the First Production in New PAC
The Shakespeare Competition marks the first ever stage performance in the new Performing Arts Center.
The annual High School Shakespeare Festival is happening this year, but with a Covid twist.
In a normal year, student Shakespeare teams converge on Southern Utah University and compete presenting short scenes from many different Shakespeare plays. This year, students filmed their scenes and sent their entries to SUU at the end of September. They are awaiting the results of the competition.
Students will be presenting their live Shakespeare performances Wednesday, October 7th at 7 p.m. in the new Performing Arts Center. This marks the venue's first ever stage performance. Because of social distancing, tickets must all be purchased through the main office. There will be no sales at the door.
This year's team will present a scene from Henry the 6th, Part 1. Director Noah Martinez, a 2015 AHS grad, said the goal was to "hold a mirror up to the world today" and reflect and comment on some current events.
"The themes with its divisive arguments and polarizing sides, are incredibly applicable", Martinez said. "Our job is to not only have the audience understand what Shakespeare's lines are saying, but also to consider how the meaning of those lines applies to them."
Martinez has loved working with this year's Shakespeare cast. He specifically loves the energy, passion, and enthusiasm the students bring to their performances. "The students make all the difference," he said. "They make the experience unique, meaningful, and memorable."
In spite of Covid restrictions, Martinez said the "secret ingredient" to making the Shakespeare competition fabulous is the "energy, passion, and enthusiasm each and every member of the cast brings to the stage."
Safety in the PAC is paramount. All attendees are required to wear masks at all times and to maintain social distance throughout the entire performance.