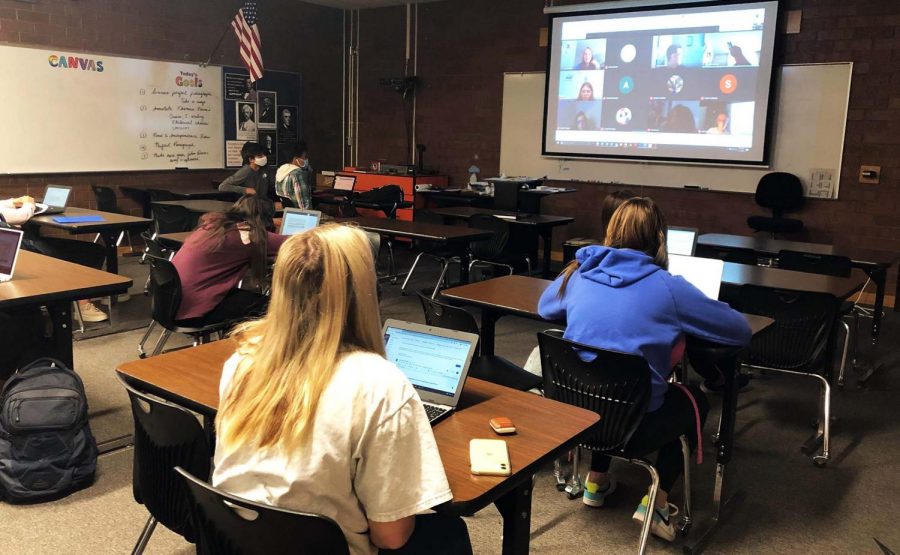 Students Prefer the Four-Day a Week Schedule to Hybrid
Students have been through numerous schedule changes during the 2020-2021 school year, four different schedules to be precise. 
Responding to a Hawkeye survey,  students said they prefer in-person four days a week school, hybrid came in second, and virtual a distant third.
Sixty-one percent of students who responded to a survey on whether they prefer hybrid or in-person school reported that they prefer the four-day a week in-person schedule. Many students explained that it is easier for them to stay motivated when learning in-person at school.
As a recap, the school year began with a regular 5-day a week schedule. After Covid-19 cases rose, that schedule was no longer possible. For two weeks, the school moved to virtual learning from home, then students came back for a week and a half of the hybrid schedule. The next schedule that was put in place was a 4-day in-person schedule with virtual learning Fridays. This is the schedule that Canyons School District plans on keeping around, however, due to the high case count, Alta moved back to the hybrid schedule for two more weeks starting Monday, November 2.   
Teachers and faculty at Alta High School have had to learn to adjust to a new schedule numerous times. 
Staying motivated when the comforts of home beckon is probably the biggest distractor for students doing work at home. "It's just much easier to learn, stay focused, and stay motivated in person,  Caroline Crockett said.
Having school in person also helps some students have a consistent sleep schedule. "I like having a regular schedule that I can center my sleep around" Ayden Merritt said.
On top of sleep and motivation, Emily Dutcher prefers in-person because "all of [her] friends are there".
While learning in person, students are able to ask questions face to face and get the help that they need. They also have a schedule that keeps them productive and on-track. With all of this considered, in-person seems like the obvious answer, right? Not necessarily.
With Covid-19 concerns, the hybrid schedule is more beneficial and much less risky. 39 percent of students involved in the survey reported that they prefer the hybrid schedule. There is a large range of reasons as to why students prefer this schedule.
Jenna Foulks said, "I come from a high-risk family, and [hybrid] is better to decrease exposure."
Hybrid helps reduce the number of people in the classroom so that people are able to social distance properly, thus reducing their risk of catching Covid-19. In addition, fewer students need to be quarantined if everyone is socially distanced, meaning everyone will be able to keep on the same schedule.  Many students also reported that they felt they had more time for assignments and liked the independence aspect of the schedule.
Dani Gibson stated that, "[Hybrid] is honestly safer and gives us at least a little freedom with our learning."
Many reported that they like the hybrid schedule simply because they do not have to get ready for school every morning. When asked why she preferred hybrid, Jane Wetzel simply responded, "I don't have to get dressed in nice clothes every day."
Covid-19 has thrown curveballs at students and faculty members here at Alta High. More students wish to be back in school full time, but it is difficult to know with certainty that that is the best option for everyone's safety.