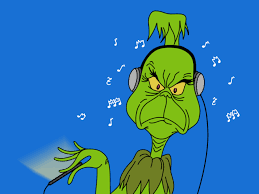 Is Christmas Music Before Thanksgiving a Grinch Level Offense?
Listen to Christmas music whenever you like if it makes you happy. The world needs more "happy" right now.
Holiday Season is fast approaching and many are hoping that it provides a little bit of light in what has been a somewhat dreary year. Everyone could use a little bit of holiday cheer in these complicated times.
Christmas music is one way that people prepare to celebrate this season and get excited. There is some controversy over how early is too early to listen to these festive tunes. Eighty-seven Alta students participated in nn Instagram survey which asked whether it was acceptable to listen to Christmas music before Thanksgiving. 67 percent responded that it was absolutely acceptable.
Many brought up the point that if listening to holiday music makes someone happy, then no one should get in the way of that. There is no reason to get in the way of someone's happiness if it doesn't affect you. Letting someone listen to Christmas music does not harm anyone in any way, so why bother them about it?
Erin Fuller emphasized, "In the crazy world that is 2020, let people do what makes them happy, please"
On top of happiness, holiday music creates a sense of anticipation and excitement for Thanksgiving and Christmas. The holiday season provides a sense of joy to many and they are willing anything that can help prolong that feeling. In this case, listening to Christmas music in advance helps them to be excited and ready for the holidays. 
"Holiday hype is exciting! You need to count down to prolong the season," Sydnie Schoepf explained. 
Although the majority is in favor of listening to holiday music early, 33 percent still believe it is unacceptable to listen to holiday music before Thanksgiving. They feel as though Thanksgiving is overlooked. While Christmas is time for celebration, Thanksgiving is a time for gratitude which is very important. Skyler Mattix said that we must, "be thankful before being cheerful."
So, is listening to Christmas music early a good thing?
Studies have shown that people who listen to holiday music and decorate for Christmas earlier are happier people. Christmas provides a sense of happiness and nostalgia for so many people, why not prolong the feeling?
Psychologist do warn, however, that listening to Christmas music too often during the season may cause irritability among listeners. This is because the music becomes repetitive and hard to tune out. This is most often the case for retail workers as holiday music starts playing in stores around October 22. 
The final verdict? Listen to Christmas music whenever you like. If it makes you happy in November, listen all you want. Just don't overdo it or else the holiday tunes may not be as jolly.