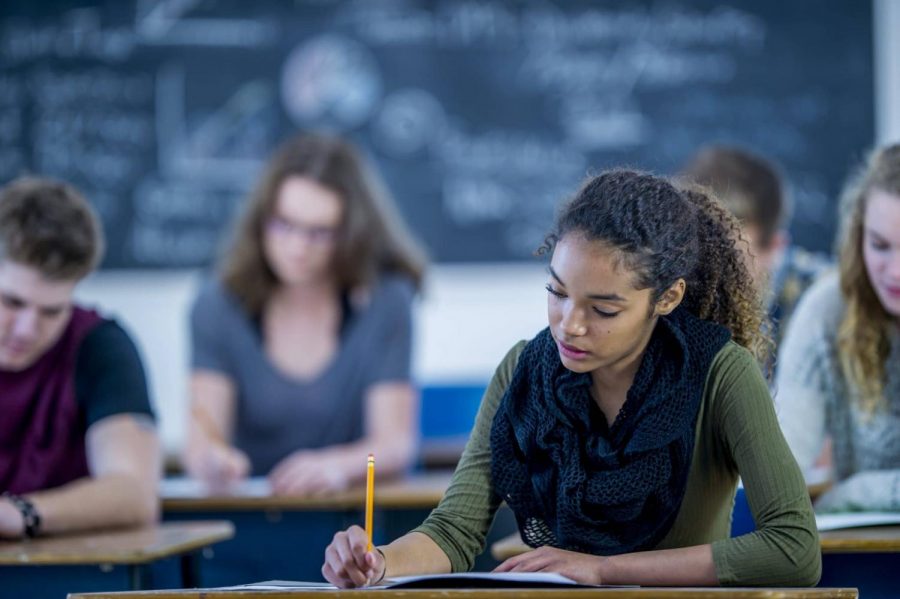 Testing for College Admissions, the ACT, will be here soon
Students need to look to the future and act now to prepare to earn their best score on the ACT.
Looking down at the crisp white paper, quickly filling in the answer bubble. Looking at the next question in the booklet, thinking it through while still trying to be quick to be able to finish the test on time.
The ACT is something that can stress students out and cause them to panic. All juniors are required to take towards the end of their junior year, this year it's on March 9. After this test, it's possible to take the test again as many times as you want.
There are 4 sections in the ACT: English, math, reading, and science. It's also possible to add the extra portion of writing if wanted. 
Teachers in these subjects, specifically English and math, help you in your classes with preparation tests or extra knowledge.Schools have been preparing students their whole education, to be able to take the ACT and be able to get a good score; however it is still needed to take time out of your day, and make time to study or get extra help.
"In my experience, the best way to improve an ACT score is to take practice tests and learn your weak spots so you can work on that," English Teach Denise Ferguson said. "You have to get a feel for the test and the types of questions that come at you so you can be prepared with some effective tips and tools to get your best score."
There are many different ways to prepare for the ACT and taking practice tests is one of them. You can find sample tests online. 
You can also order an ACT prep guide, which has many different practice tests and tips. There are also plenty of prep classes around to take. A good option being the free after school ACT prep that Mr. Keller offers. I went to his classes last year and he gave me some really good tips when it comes to taking the ACT.
"There are a lot of different test prep courses available. Last year Alta was able to bring in a test prep company called Sycamore learning, which helps students look for tricks on the test, and manage their time more effectively.
"We're in the process of getting a program like that set up for this year" said Ms. Kershaw, school testing coordinator. "The easiest way to prepare for the ACT is to come to school; the teachers don't teach to the test, but they teach you the skills that you need to do well on the test. Just being engaged in your learning can help."
There are many different resources when it comes to preparing for the ACT, and they're not too difficult to find. It's okay to be stressed out when it comes to the ACT, but don't be too worried. There's plenty of chances to take the test again and try to improve your score, and as of right now many colleges aren't basing scholarships off of ACT scores.