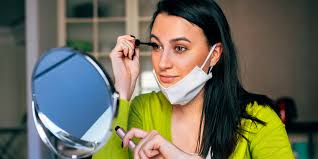 Mask Wearing Changes Cosmetic Sales
Lipstick sales plummet and eye shadow, eye liner, and mascara sales make a big jump during Covid.
Cosmetics are a major obsession for most teens and a big part of society, social media, and everyday life. But what happens when half of the workspace is suddenly covered by a trendy face mask?
Soaring and Sinking
Makeup products are swinging up and down depending on the product but the main two products now seem to be at odds with each other; one is definitely more popular these days because of covid. Eye shadow is definitely out performing lipstick at the cash register.
Lipstick
Lipstick sales have sunk almost through the floor, the amount of people wearing lipstick has dropped 23% in the summer leaving lipstick sales at 50% what it normally is. Lipstick has always been a huge part of the makeup industry with so many shades, colors, textures, and functions.
After asking multiple students if how or when they wear lipstick has changed the overwhelming answer was a resounding "yes."
One student said, "I used to wear lipstick all of the time, but with a mask it gets all over and ruins the mask, so I barely wear it anymore."
Another student said, "Lipstick is very difficult to wear with the mask, and no one will see it, so what's the point in wearing it during covid-19."
An article by Business Insider notes that even though lipstick sales are low these days, products for eyes is on the increase.
"Obviously, when you can't see the lips, eyes are super important," L'Oreal CEO Jean-Paul Agon said. "And so we want to develop very strong makeup for eyes or stay-on foundations and there will be opportunities."
Eye shadow 
On the other side of things, eye shadow is in high demand. Eye makeup sales are up 204%. With social media platforms like Tiktok, YouTube, or even Facebook teaching people how to do fun, bright, bold, or natural eye shadow looks people have started to use more "above the mask makeup"  being mostly eye shadow.  
Alta students have said "Since quarantine, I have been focusing to get better on my eye shadow, especially my eye shadow."
But, it's not only eye shadow. Likewise, several Amazing Lash Studio locations, a chain of more than 250 beauty boutiques in the US, reported a 22% increase in digital clients leads since the start of the pandemic. Meaning more people were buying false eyelashes online. Eyeliner is also a big part of the make-up community.  
Preslee Green, a Alta student, states "I didn't really wear eyeliner until everything got shut down," then goes on to say, "Now, I always wear it when I have time to put it on."
What this means
With quarantine, cancellations, and other covid related things the makeup industry has been suffering in some areas and highly successful in others. If quarentines continue we could see a fall in lip product (lipstick, lip gloss, ect.) and an increase in eye makeup (eyeshadow, mascara, eyeliner, ect.). This could also make eye products more expensive, due to the high demand, because of this lipstick prices would primarily drop due to the low demand at this time.