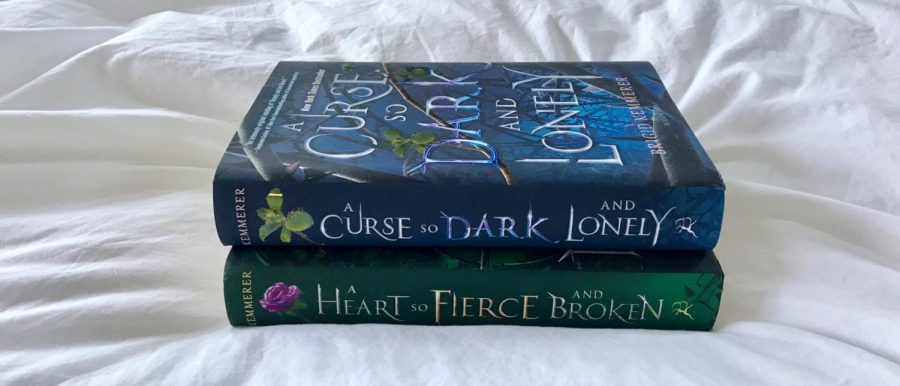 Check Out a Book from the Library for Your Holiday Break
Grab and book and head into the holiday season with a new book. Don't leave school without a book.
---
There are thousands of books in the library here at Alta High. This can make choosing a good book to read difficult and daunting. Fortunately after  speaking to head librarian, Mrs. Olsen, here's my list of the best books to read in 2020.
1.  A Curse so Dark and Lonely – Brigid Kemmerer
Mrs. Olsen's first book recommendation is an exciting tale of adventure, tension and romance. This book follows a strong-willed girl named Harper. Harper has cerebral palsy and because of this she is constantly underestimated by her peers and even her own brother. One day when Harper tries to save a stranger she is transported to a magical world.
This book is a Beauty and the Beast retelling that truly manages to flip the story on its head. This book has also been praised by its positive representation of cerebral palsy.
2. Refugee – Alan Gratz
This book is about three different kids during three different eras. The first kid is a young jewish boy who tries to escape Germany to Cuba in the 1930's. The second kid is a girl who is trying to leave Cuba in 1994 during the Cuban hunger crisis. The last kid is a young Syrian boy who's home is destroyed by a missile in 2015. His family decides to relocate to Germany.
Alan Gratz has been widely praised for his historical accuracy in this book. His intense and dramatic writing style makes this book both heart-wrenching and human.
"This book was very useful in helping me understand the hardships and difficulties faced by the immigrants who work so hard to enter our country," Mrs. Olsen explained to me during our interview.
3. You Should See me in a Crown – Leah Johnson
Johnson's book is a coming-of-age story about Liz Lighty, a girl who decides to try to win prom queen because of the scholarship given to the winner of prom queen. Things get messy when she begins to develop feelings for her prom queen competition. Liz quickly gets torn between her new crush and winning the competition.
You Should See me in a Crown has been praised for its positive depiction of a queer teenager. The protagonist, Liz, has also been praised for being a positive role model for black youth.
Mrs. Olsen herself said that what made the book so special was the main character and her strong sense of self.
4. The Hate U Give – Angie Thomas
This book follows sixteen-year-old Starr Carter who lives in a poorer black neighborhood. In contrast to this Starr goes to school in a wealthier, predominantly white school. When a party is broken up and Starr's childhood friend Khalil drives her home they are pulled over by a white cop. Khalil is instructed to get out of the car. He looks in the car to see if Starr is alright and is shot by the cop.
This book is one of the most praised books of the decade. Angie Johnson is heavily praised for opening and discussing the topic of police brutality in spaces that people may not care or think about.
"This book is one of my favorites because the character is a reluctant hero. She is forced to take a side and when she does it's powerful because she has firsthand experience of injustice and what she should be fighting for," explained Mrs. Olsen.
The Hate U Give is also a very timely response to the violent and unjust murder of George Floyd.
5. All American Boys – Jason Reynolds and Brendan Kiely
All American Boys is a novel that attacks police brutality head-on. It explores the racial profiling young black men have to endure and how ignoring police brutality is just as bad as taking part in it.
"This book is so important because it highlights that police brutality against black people shouldn't be a problem only for black people- it should be a problem for everyone," Mrs. Olsen said when I asked her why she felt this book was important.