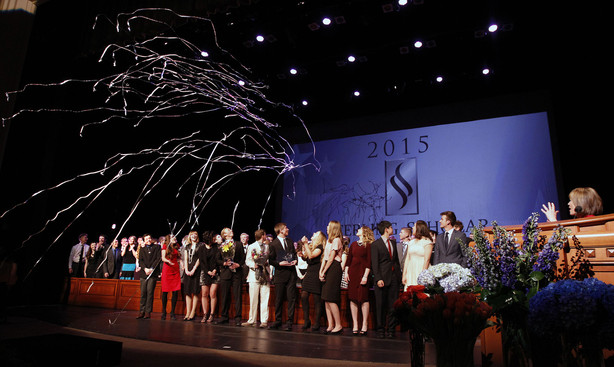 2020-21 Alta Sterling Scholar Candidates Announced
---
The Sterling Scholars awards concluded the first of December with 50 people competing for the coveted 14 spots in various categories.
Because of Covid restrictions, this year's Sterling Scholar reception didn't happen, so this year's winners learned from a Facebook announcement. "It super unusual," said Sterling Scholar Chair Heather Heffner, but we didn't have that many options."
It is an honor to be chosen the "best" in a given category at the school level. Scholars assemble a portfolio detailing their accomplishments and go on to compete at the region level. If they make that cut, they go on to compete at the state level. "The competition gets tougher the longer you go in the competition," Heffner said.
The Sterling Scholar program does offer up a $3000 scholarship to all of the Utah colleges and BYU Idaho. However one can only get this scholarship after winning their division of the high school Sterling Scholars.
Wesley Hardy, this year's English Sterling Scholar, was one of nine students who applied for that category. He said having a good interview is key and that he has practiced interviewing as a member of the school's Academic Decathlon team. "I was grateful to be selected," Hardy said. "I did have some tips from my sister that helped."
This year's winners include: Brena Anzer, Science; Hannah Barlow, Dance; Andrew Carlton, Social Sicence; Mordan Fairbourn, Mathematics; Emily Erickson, Business & Marketing; Nicole Glazier, Computer Tech; Kade Gordan, Instrumental Music; Wesley Hardy, English; Saskia Paepke-Chile, World Languages; Alyxandra Rees, Visual Arts; William Wilkinson, Family & Consumer Sciences; Vivienne Zielinsky, Skilled and Technical Education; Sara Riches, Speech/ Theatre/ Forensics, Natalie Hood, Vocal Performance. Three other students were awarded accolade awards: Austin Reich, Mathematics; Robyn Christiansen, World Language and Ethan Christensen, English.