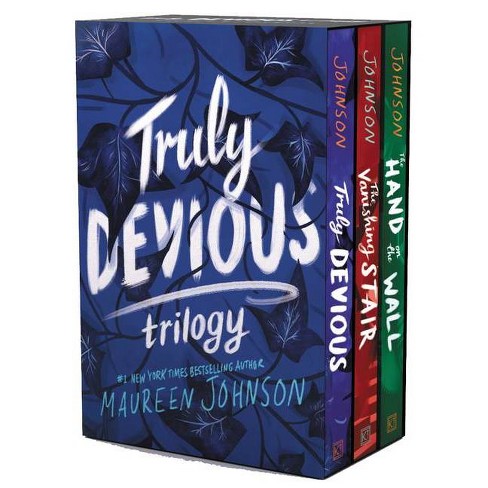 AHS Library Recommends More Books to Read in 2020
Cold weather and vacations can mean one thing …. time alone inside the house. Now is the time to check out a new book for the winter break. Mrs. Olsen, AHS Media Center Coordinator is an expert when it comes to teen literature. The Media Center is up on popular fiction / books and they are ready for checkout. Before the final bell rings on Thursday, December 18, stop by and check out a book for your reading pleasure.
Top picks for December …..
Truly Devious

–

Maureen Johnson
           Truly Devious follows Stevie Bell, a school girl in her first year of school at the prestigious     Ellingham Academy. Stevie quickly learns about a kidnapping that took place a hundred years ago at her school. As Stevie finds out more about the kidnapping, one of her fellow classmates is murdered. Evidence at the crime scene points toward someone who goes by the pseudonym, 'Truly Devious'. Stevie realizes this is the same person who kidnapped the founder's wife and daughter a hundred years ago.  
     This book is exciting and full of tension. It is also kind of dark, but that is what makes this book so interesting. 
         2. American Royals – Katherine McGee 
   This book takes place in an alternate universe. In this reality George Washington has set up a royal monarchy. Through the ages, the oldest sons of the family have inherited the crown. Now the oldest children (no matter the gender) can inherit the crown. Under this change of law, young Beatrice is now in line to be Queen.
     This book is a fun book that is kind of a coming of age drama. It details the and stresses that Beatrices feels as she recognizes her new place in the world. Despite this, this book isn't entirely stressful, Mrs. Olsen called this book, "fun and lighthearted".
        3. Warcross – Marie Lu 
Warcross follows 18-year-old Emika Chen, a bounty hunter for the largest internet game in the world called Warcross. Her job is to find illegal activity related to the game. The creator of the game recognizes her prowess and invites her to try and track down some malevolent hackers. 
This book is widely praised for its positive role model of asian youth and unique plot ideas. Mrs. Olsen praised the book saying, "this is an incredibly twisty and clever read."
         4. Scythe – Neal Schusterman 
In an alternate universe, all disease has been wiped from earth. People are now almost immortal. To control the population there are now people called 'scythes'. 'Scythes' only job is to kill people. When teens Citra and Rowan learn that they must apprentice a scythe they are forced to learn the consequences of living in a perfect world. 
Mrs. Olsen said this book was very interesting and highly captivating. Schusterman has been widely praised for his ingenuity when writing this book. 
         5. Serpent King – Jeff Sentner
Dill's father is jailed for an unspeakable crime. He and his mother are shunned by neighbors and work hard to make ends meet. Despite this, Dill is blessed with two loyal and eccentric friends. Dill realizes to move on and start a new life he will have to confront his past head on. 
Mrs. Olsen said that this book is, "incredibly heart-wrenching and sad." So be warned!
     Those are this year's most recommended books! Any of these books can be checked out at our school library so feel free to pop in and pick one up.