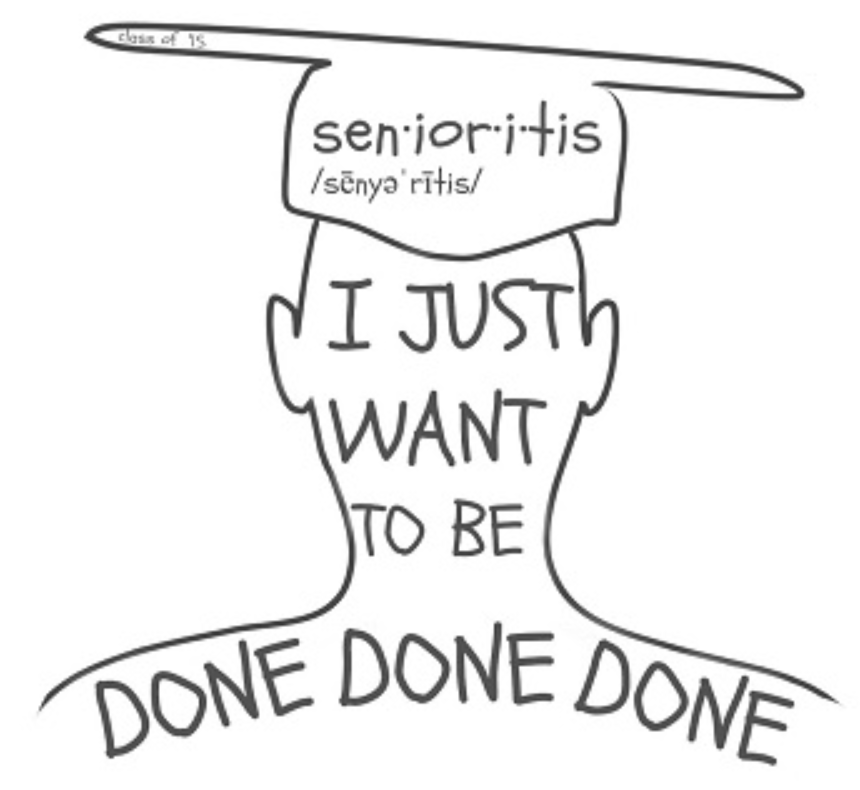 Seniors Offers Tips for Staving Off "Senioritis"
Seniortitis … most students have all heard the term but what is it exactly? Why is it so common amongst seniors in highschool? Is there a known cure?
According to Webster's Dictionary, senioritis is "an ebbing of motivation and effort by highschool seniors as evidenced by tardiness, absences and lower grades then in their previous high school years." In other words it's a lack of motivation in seniors to show up to class and do their work.
What are the causes of senioritis? Many times seniors have completed the majority of their graduation requirements so only have a few things they need to do but sometimes their parents make them fill up their full schedules. Other times seniors have already been accepted into college and they lose their motivation because of that. 
Counselor Christine Astle labels "senioritis" as basic burnout and this year could be worse that other years. "Covid and what's happening in the world is leaving us all a bit more tense," she said. "That can lead to lack of motivation."
Astle offers some advice for students. For one, she said students should schedule breaks for fun activities and set small goals to help give them a sense of accomplishment. Most importantly, they need to "keep life after high school in mind."
"
"Students are short sighted if they don't keep their eyes on the 'trophy' (graduation)," Astle said. "I hope they remember that they will never again have the opportunities they can have at Alta." Education will never be "free" again."
— Ms. Christine Astle
Positive talk aside, it's still hard to stay motivated. Senior Cole Johnson said he struggles to stay motivated. "I have really struggled to find motivation to show up to the classes I don't need to graduate," he said. "I have already been accepted into college and It just feels like a bunch of busy work now. It's hard." 
Most Seniors will experience some form of "senioritis," but it can be potentially harmful to them. Lack of motivation and bad grades can put extra stress on highschool students and make them feel scared or alone but there are a few ways to avoid and even prevent it!
"The biggest thing to help prevent senioritis is to take classes you enjoy and interest you if you don't like the class you are in you will feel more motivated to do the work," said senior Kate Shreves.
Another is by not procrastinating letting things build up and pile up is going to decrease motivation as it feels like it's too much to do and it becomes very overwhelming. If students feel overwhelmed they should talk to their teachers and ask for help and take things one part at a time, no teacher wants to see their students fail. 
Senioritis is very real and can be destructive, so make sure to stay on top of your work, stay positive and when you can take classes that are interesting!
Ms. Astle admonishes students to remember to "control what they can control."