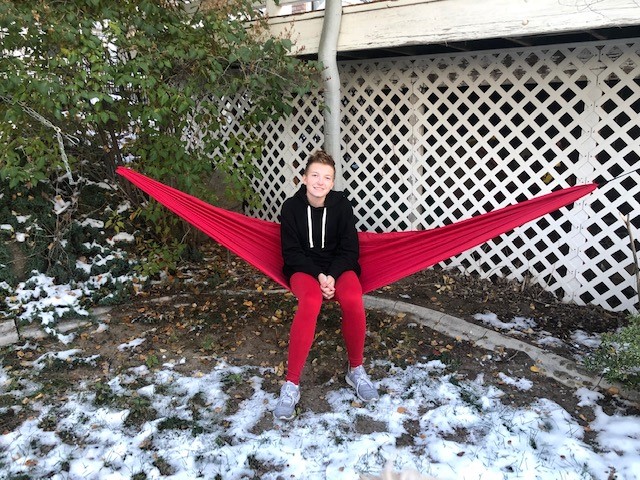 What makes Sports and Outdoor Product Design such an important class to take?
Students in the Sports and Outdoor Product Design Class make a myriad of projects, everything from hammocks to sweatshirts.
Sports and Outdoor Product design is the sewing class at Alta. Each class gives you the opportunity to sew, working up to harder projects as you go along. Students can go into the class having no idea how to sew, and they can end up finding a career. The class is equipped to handle students with all different skill levels.
Student Sara Riches started with Sewing 1 and now she's taking Sports and Outdoor Product Design. "Taking sewing 1 was super fun," she said. "I'm already an avid seamstress so I've made many projects on my own time, but it was nice learning more of the technical aspects behind different sewing mechanics."
This class can be taken at any grade level. It's a fun elective for freshmen to take that helps them to be more comfortable and engaged. It can be a good class for Seniors to take to destress and be creative. It's also a good class for Sophmores and Juniors to enjoy taking a break from their busy schedules while still learning a helpful skill. 
Students in the class mentioned that the class helped them to improve patience, problem solving skills, how to learn from your mistakes, enhance their creativity, and just how to sew in general.The Sports and Outdoor Product design class has helped many students to learn a new skill that can help them in their futures, while still being able to make them comfortable and letting them have fun. This class allows students to laugh and be creative, while still learning how to focus and not procrastinate. 
The sewing teacher Mrs. Bentall said, "Sewing is often seen as a "lost art" in today's modern world of fast fashion. However, as the instructor, I am passionate about sewing and know that being creative is an essential and marketable skill in the workplace."
Mrs. Bentall is always implementing fun and new projects that students would be interested in making, while improving their sewing ability. This year, the course shifted to a more outdoor/sporting approach. Students make lanyards, cold/heat packs, hammocks, sweatshirts, and sweatpants.
Students who have interest in working for brand names such as Patagonia, Black Diamond, REI, or Cotopaxi, then this is the class.
Sewing is an amazing life skill to learn, and this is the class to take if wanting to enhance that skill or even learn it for the first time.