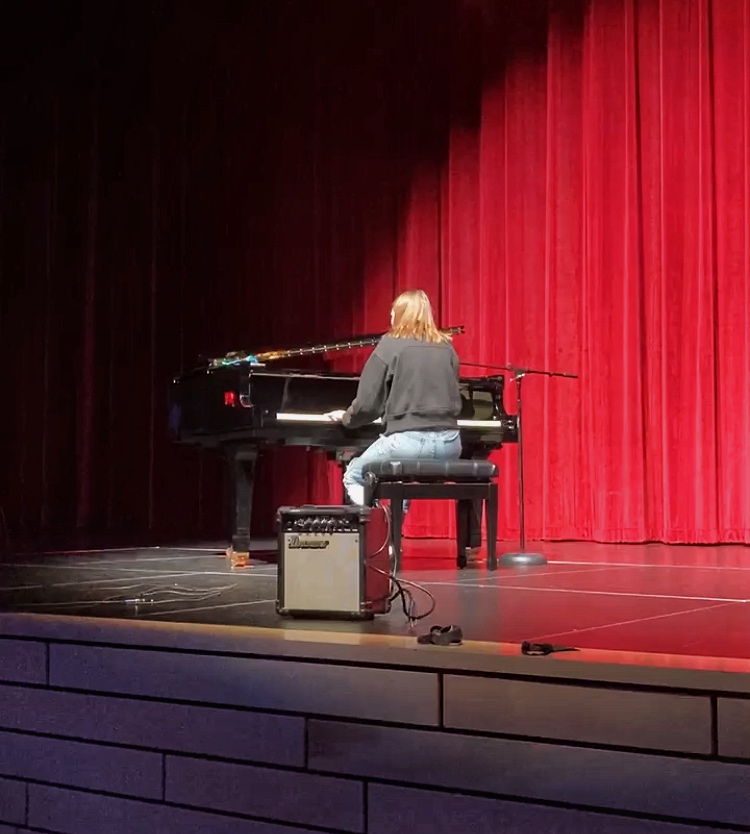 Eleven Performers to Take the Stage for the 16th Annual Alta Idol January 25th
The audience will be spaced out and masks are required for this year's Alta Idol.
With the 16th annual "Alta Idol" coming up soon on Monday, January 25th, at 7pm in the Performing Arts Center, the 11 participants are very excited to be able to perform this year. After interviewing a few of them, get a preview of what's in store for 2021's competition. 
Ellie Drummond, a senior, is excited to "…get out of my comfort zone and show people the songs I write." She has done voice lessons for a few years, but hasn't performed many times. On Monday night she will be singing an original of hers called "How You Feel" for her first time participating in Alta Idol. Her voice and touching song will get everyone in their feels on Monday. 
Luke Hillstead, a senior, will be singing the popular 2000s song, "Bad Day" by Daniel Powter. He says, "I like performing so far and I don't get bad stage fright, but I've never performed like this before." He goes on to say he hasn't sung hardly at all, besides in the shower. However, he has been playing the piano for 8 or 9 years and loves it, and will be playing as part of his amazing performance. 
Another senior, Chance Reid, says "Honestly I'm hoping to get the dub." He will be singing "Harder to Breathe" by Maroon 5. This is his 2nd time being a part of Alta Idol, and is going to play the electric guitar this year. A little bit about him is that he performed at a festival in Scotland with his Acapella group, and has done voice lessons for about a year. He has a powerful voice and it will come through in his song. 
A 3rd time Alta Idol participant, Lucy Lesueur, a junior, said "I've been singing pretty much my whole life, and I love performing and am very excited." She will be singing "Love in the Dark" by Adele. Experience her beautiful voice and kind soul on stage Monday night. 
Additional performers to take the stage include Chloe Chytraus, Chloe Barrus, Kate Oliver, Kate Debry, Tenley Derieg, Kyah Wellings, and Addison Horrocks. After having a dress rehearsal Friday morning, the performers are ready to go and feel ready to show everyone what they can do.
Everyone is extremely grateful for the opportunity to perform this year, has tested negative for covid, and set to perform. Tickets can be purchased on Alta's website for anyone that wants to come and enjoy a fun night of some of Alta's most talented individuals!