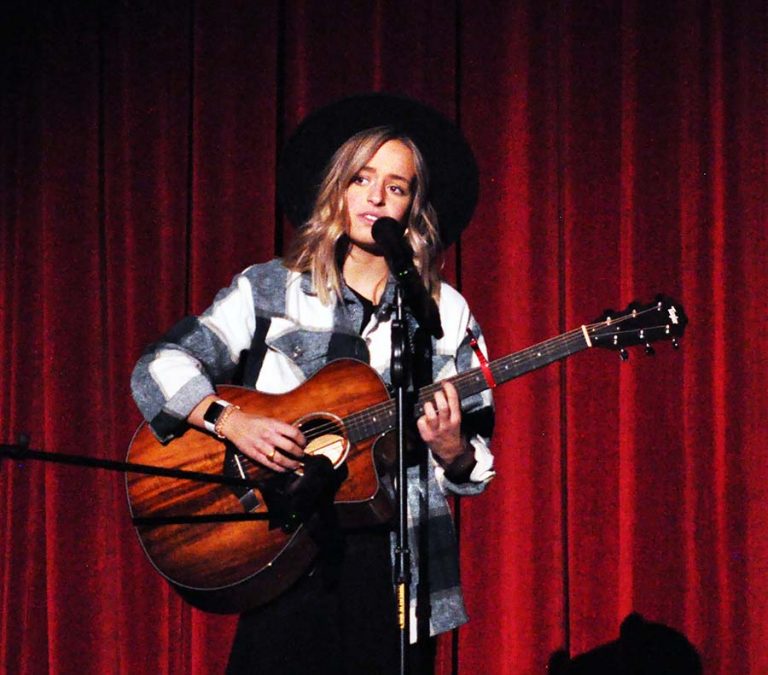 Eleven Students Compete for this Year's Alta Idol; Kate Debry Takes Top Prize
Judges selected Chloe Barrus, Chance Reid and Kate Debry as this year's finalists. The audience selected Kate Debry as this year's Alta Idol.
The hardest part of anything is the unknown, the fear that you don't know what's going to happen, that you don't have enough, and that somebody else wants it more than you. Does your passion and talent match your practice? Will they see the "me" I want to show?
All these worries were left behind by 11 student vocalists vying for the title of this year's Alta Idol. They charted their course and hoped that what they brought to the stage was enough. For 16 years running, the Idol competition invites students to become the year's "best
" voice. 
"
Everyone was so good and I was surprised to win. I was so excited."
— Kate Debry
At the end of the night, the audience chose Kate Debry as this year's Alta Idol! In
the first round she sang Die From a Broken Heart by Maddie and Tae. Kate's voice is well trained and capable to perform great things. In the second round, Kate performed an original song entitled Back of Your Car. Or as Justice Cole knows it "Pioneer Cart?" Her original song proved that she has a bright future in the musical industry. If not as a singer, as a writer.
After the show Debry admitted the competition was stiff. "There was so much talent," she said. "Everyone was so good, and I was surprised to win. I was so excited."
To start the show, Kate Oliver performed Demi Levato's Stone Cold, while playing the piano. Being the opening act it is hard to deal with a null crowd, however Kate handled it beautifully.
Chloe Barrus, actress for Ariel in the school musical, sang Before its
Over, by  Pasek and Paul. She magnificently proved that she deserved to be the lead in the play, and has a presence of singing stage. Barrus was one of the final three, and while sadly she came up short, her performance was impeccable and uncanny.
The first of two male singers was Luke Hillstead, who sang Bad Day by Daniel Powter. His talent on the piano combined with his voice created a near perfect recreation of Daniel himself. Luke added his own little style that gave him some extra points in the judges book.
Playing Love In The Dark by Adelle was Lucy LeSueur. As noted by judge and guitarist Jacob Christensen, her guitar was powerful at times, and quite where it shouldn't have been. This left Jacob wanting more from Lucy, which she didn't get the chance to give. Nonetheless, Lucy has an extravagant voice that, without a doubt can take her many places.
A strong presence on stage and the voice of confidence could only match the voice of Addison Horrocks. Her performance, shook the entire crowd. She sang ABBA's The Winner Takes It All, and added more power to the song. It was one of the few performances that received a standing ovation. While sadly her immaculate voice was not enough to advance to the final three.
Olivia Rodrigo's All I want, performed by Tenley Derieg was nothing less than astounding. Her voice is a gift that the audience could tell was well protected and trained. While she also fell short in the final cut, there should be no shame or bad mark left on her portfolio. She proved that the only thing wrong with her voice was that it can make others envious.
Chloe Chytraus was the first to perform an original song, entitled I Can't Forget You. While Chloe has an amazing talent in singing, her lyrics were hard to decipher. However her song was full of heart and passion. She left her heart and soul on stage. While her mistakes brought her down, her talent and her tenacity tipped the weight of the scale in her favor.
The second male to perform on the singing stage this year was Chance Reid. He was the only singer to perform with an electric guitar. He mastered the voice of Adam Levine as he sang Maroon 5's  Harder to Breath. He sang almost to perfection, however it was his playing he was critiqued on.  Lucky for Chance, he was one of the final three, and got to perform again. This time Chance proved his diversity by playing the piano which showed his musical diversity.
Kyah Wellings and Ellie Drummond performed well and at the conclusion of the competition, the audience knew the judges had their work cut out for them. The competition was stiff.
Alta Idol was the first school show that allowed a crowd in the audience this school year! And to make things better, the crowd proved themselves capable of maintaining social distancing protocols! So the students and families can hope to see more school activities to allow a crowd in the near future.
This year the judges  were Alex Boye, Dan Collette, and Jacob Christensen.
Before the night ended, Alex Boye performed for the audience "Brighter." A professional musician, Boye rocked the house. It was icing on the cake for a great night of music by some of Alta's best singers.