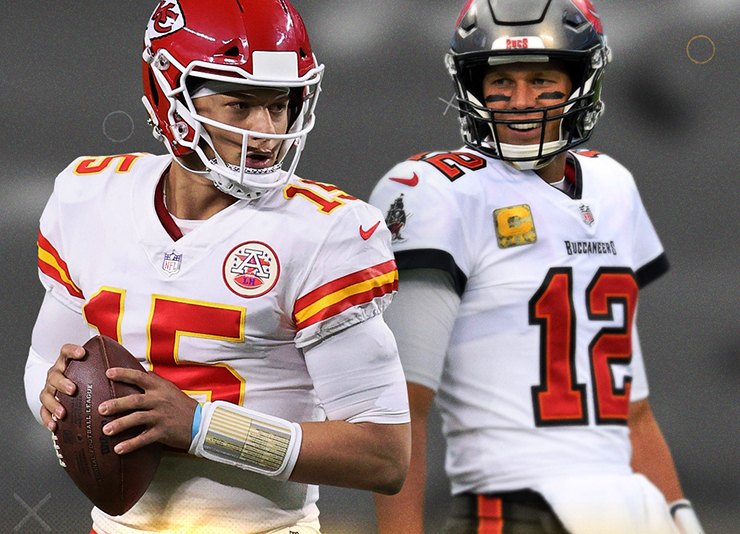 Tampa Bay and Kansas City Gear Up for Superbowl February 7th
This NFL season has been anything but normal. Every team has had to jump through hoops and abide by new guidelines. There were definitely some learning curves among coaches and players (i.e. keeping masks on to avoid fines). On top of new rules, the lack of a preseason led to a season full of injury. The two teams who made it to the super bowl are no exception. In fact, as of Decemeber 1st, 2020, the Kansas City Chiefs had the most injuries out of any NFL team. They were able to persevere and fight their way through the playoffs. Their next challenge: facing Tom Brady in the Superbowl.
This will be Tom Brady's tenth Super Bowl; he currently has six superbowl rings and is seeking his seventh. In fact, the first time that Tom Brady played in a Super Bowl, Patrick Mahomes was in Kindergarten and now they are facing each other.  Unlike other years, Brady will not be wearing red, white, and blue with the Patriots. Brady led the Buccaneers through the season with eleven wins and five losses. Tampa Bay came into the playoffs as a wildcard and have fought their way through to the end. 
Patrick Mahomes will be leading the Kansas City Chiefs through this game. This will be Patrick's second Super Bowl in two years. The Chiefs had a record of fourteen wins and two losses this season. Kansas City came in first seed of the AFC this year. 
The Tampa Bay Buccaneers are facing a lot of doubts by the media. There is a stigma around wildcard teams. No one ever believes that they are going to go all the way and win.
Former New York Giants Runningback, Brandon Jacobs recalls that, "Nobody ever gives you a chance to win obviously; going into the game, everybody is going to beat you every week, right? 'They got lucky. It won't happen this week. Oh, they look like they're playing pretty good but I don't think they have enough for this week.' Going in everyone else's house and winning the game when you're not supposed to win, that gives you so much more confidence going into the next week."
The New York Giants became the first NFC wildcard team to win a Super Bowl in 2007 when they beat Tom Brady and the Patriots. This could be a chance for Tom Brady to put his name on the list of quarterbacks who led a wildcard team to becoming Super Bowl champions. Kansas City is favored to win by three points. It will definitely be a close game and one that is fun to watch. It will all come down to who wants it more. Make sure to tune into NFL network on Sunday, February 7th at 4:30 pm MST. 
The Super Bowl, of course, is about more than just football. Many people tune in to see the halftime performance, the commercials, or the familiar faces that show up. This year The Weeknd will be performing for the halftime show and Miley Cyrus will be doing a special tailgating Tik Tok event. On top of this, Amanda Gorman will be participating in the coin toss as an honorary captain. Gorman performed her amazing poem, "The Hill We Climb" at Joe Biden's inauguration on January 20th. 
This year may look a little bit different with the presence of Covid-19, but the stadium will have one third occupancy. This means some fans will be allowed in the Tampa Bay stadium to watch the game unfold and create crowd noise. The fans will be socially distanced and have masks on.