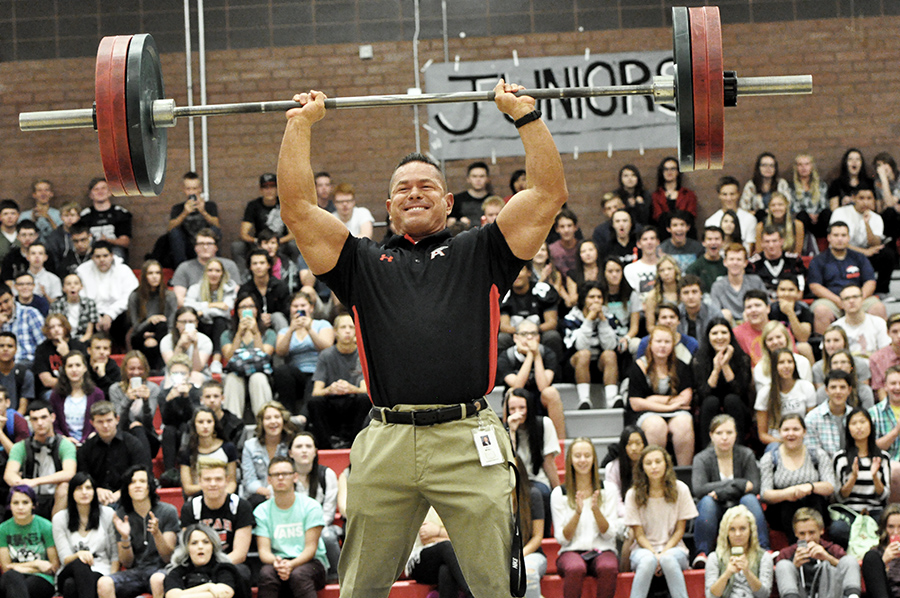 Alta's Own Brian McGill Named Utah Principal of the Year
Alta High Schoolś Principal Brian McGill received Utahś Principal of the Year award by the Utah Secondary School's Principals last week. Not only does he support the students with encouragement, but he is also highly educated and provides students with unique opportunities. For the last seven years, Principal McGill has been lifting spirits and helping Alta students to achieve their potential. 
For Dr. McGill, each day is business as usual. He is focused on one goal, doing what is best for kids.
¨When I walk through the doors every day, I have to do everything in my power to do what is best for kids,¨ he said. "That's what we are all about." 
"
¨When I walk through the doors every day, I have to do everything in my power to do what is best for kids. That's what we are all about." "
— Dr. Brian McGill
When asked about being outgoing towards students, he explains that, ¨There is a vibrant feel to being surrounded by 14- to 18-year-olds day in and day out… I want our kids to feel comfortable talking to their principal." He integrates fun into the school and creates a fun environment that students are proud of. 
Principal McGill often encourages students to participate in a culture of inclusivity. It is vital that all students feel welcome at Alta High School and know that they have a place here. He has reached out to underrepresented students and put together programs such as Link Crew and Hope Squad to help new students feel welcomed and make connections at school.
Students have taken appreciation of his inclusivity as Brock Jessop stated that, ¨…he cares about the students.¨ 
Another student, Kailee Johnson said, "Our principal does everything in his power to make the most of it for us, and he doesn't give up. He's loving and generous."
Dr. McGill not only encourages inclusivity, but he participates in it. Mcgill does not want to be seen as the stereotypical school administrator who is all work and no play.  He often participates in fun school activities to lift school spirits. He has put on a football uniform and pads and raced on the field with the football team, deadlifted 245 pounds at the 2015 "Hello Assembly" and  even joined Dance Company in a hip-hop routine last year. 
On the flip side, Dr. McGill is an extremely hard worker. He has worked day in and day out to make sure that Alta is running smoothly and providing its students with a place that will help them succeed. With a bachelorś degree, three masters degrees, and a doctorate in Educational Leadership and Policy in Social Justice, Principal McGill is highly qualified. In his drive to provide students with ample opportunities, he helped to create the Step2theU program. Alta High School is the only high school in Utah to have this type of connection with the University of Utah and it has collectively saved the participating students around $6 million in tuition costs. During the time that Step2theU was being created, Altaś enrollment in Advanced Placement and concurrent enrollment classes also went up.
McGill points out that Alta's minority students now take the college level courses at the same rates as their Caucasian peers.
Student Ella Martson said, "He always helps out, no matter how difficult it can be to improve Alta."
The faculty also notices his hard work. According to Social Studies teacher, Andrew Farnworth, ¨Itś amazing how much time he invests. He´s up at 3 am working. He invests so much time into school."
Principal McGill truly has Altaś best interest at heart and does everything he can to make Alta High School a better place. "He is so nice and supportive, and even gave me tips to become more motivated," Joselyn Rachel said.
"He makes school fairly decent, I mean at least he's trying his best, and  also makes activities fun for many people," Mercedes Somma said.