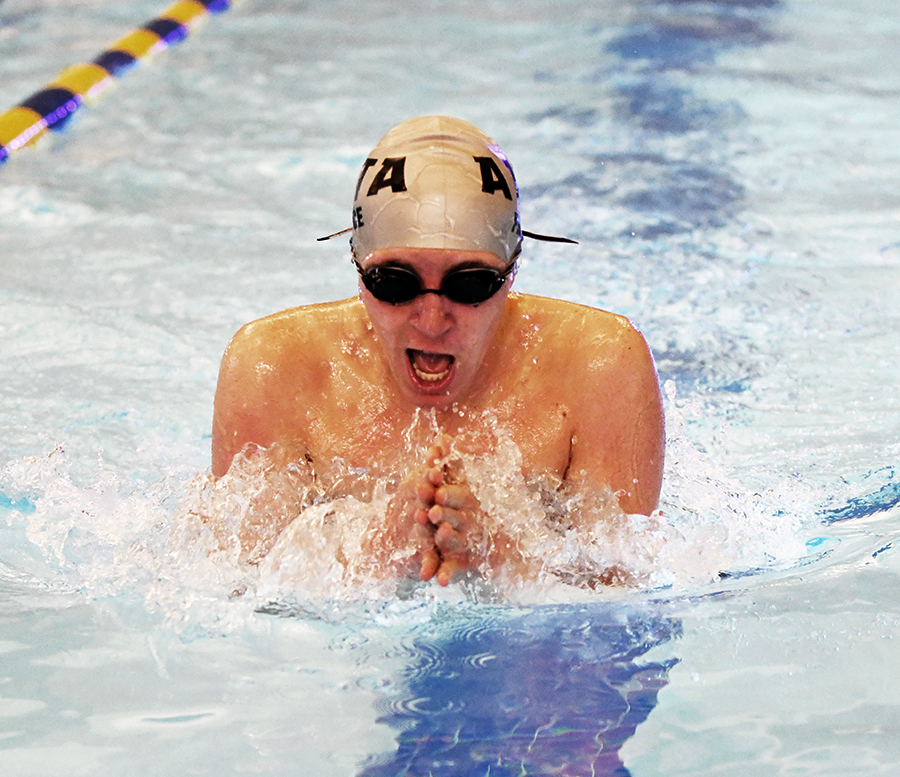 Alta Swim Team Races Their Way to Region Championship
The Alta swim team placed first in Regions last week, being the first time Alta has taken first in seven years. The girls team placed first overall and the boys came to a close second place, however, the team as a whole placed first in Region 7.
"It was a great surprise to have the girls win regions," said Clark Etherington, Alta Swim Team's Head Coach. "A season full of ups and downs and this team stuck together and worked hard enough to win regions. It was the best region meet in my 30 years of coaching."
Felicity Harman, a varsity swimmer on the Alta Swim Team adds that winning regions "was such a great moment with all of the jumping and cheering with everyone! And then holding the trophy and knowing that we beat the state champs was incredible! It was just such a great and happy day!"
This year was the first time Alta Swim Team has taken first at region competition in seven years. This year Alta also beat Timpview High School, who earned last year's region champion title and also won state for their girls team. And despite all the disruptions this year for the swim team, Alta still came out on top.
Etherington reflected on this year saying that this year "was a great year and shows how no matter what they throw at us, pool closures, Covid, health department restrictions, Alta swimmers are strong and did amazing."
This year was full of roadblocks, with multiple shutdowns due to Covid-19 closures and quarantines. But the Team stuck together and persevered through it all. With driving even further to different pools when Dimple Dell Rec Center closed down, or when the swimmers had to swim individually, or even just with the simple adjustments for Covid precautions, the Alta Swim Team fought through it all and fought their way to victory.
"Our team was super positive at regions, even when it looked like other teams might win we still put in our best effort and managed to pull ahead," said Jane Wetzel, one of Alta's varsity swimmers. "I think that the team's positivity, cheering, and them simply just being there for each other made a huge impact on how we performed."
This season was a great one for the Alta Swim Team but it is not over yet. Some of their best swimmers will be heading to their State meet on the 19th and 20th of February. Through all of the difficulties the swim team experienced this season, Alta made it through them all. With their positive spirits and great dedication, our swim team won regions.
The following individuals medaled in their events at Regions:
Russell Cutler: 50 Free and 100 Breaststroke
Kate Degering: 200 IM and 100 Backstroke
CJ Etherington: 100 Breaststroke
Lauren Gassman: 50 Free and 100 Free
Brock Jessop: 50 Free and 100 Free
Kate Johns: 100 Fly and 200 Free
Maggie McDonough: 200 Free
Carter North: 50 Free and 100 Free
Jill Rich: 100 Backstroke
Jaden Tu: 100 Breaststroke
Jack Vietti: 500 Free
Maddie Watt: 200 IM and 500 Free
Ryan Watt: 200 Freestyle and 500 Free
The following relays medaled in their events at Regions:
Girls 200 Freestyle Relay: Ellie North, Kate Degering, Maggie McDonough, Lauren Gassman.
Girls 400 Freestyle Relay: Ellie North, Kate Degering, Maggie McDonough, Lauren Gassman.
Boys 200 Freestyle Relay: Carter North, Brock Jessop, Russell Cutler, CJ Etherington.
Boys 400 Freestyle Relay: Carter North, Jack Vietti, Ryan Watt, Brock Jessop.