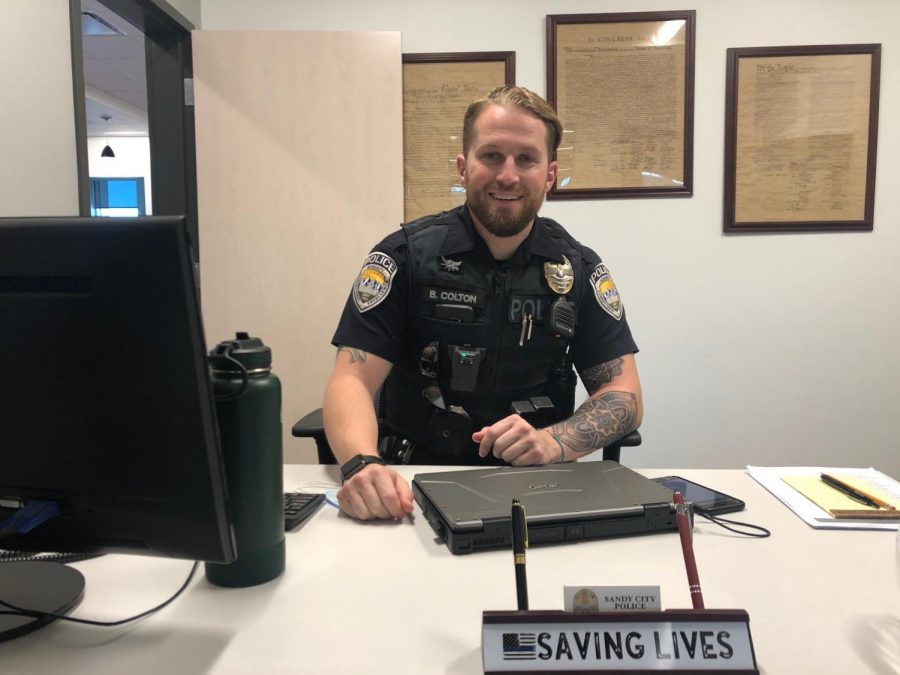 New Police Officer Believes in the Golden Rule: Treat Others as You want to be Treated
He used to give speeding tickets, but Officer Brayden Colton, has put that aside to work with students at Alta.  Colton replaced Shay Ballard,, who is now a police detective, as Alta's new police officer.
Officer Colton loves his job and the impact he has on others, as well as himself. Colton loves to help people and longs for people to look at cops as friends and normal people. "We all go to the same school, we are all different people and we all come from different backgrounds," Colton said. "We're in a way a family here at Alta." 
Colton grew up in Holladay Utah and graduated from Olympus High School. When Colton was only 16 years old he knew he wanted to be a police officer. He has two older brothers that are police officers and that's only one reason he decided to go into the police force.
"
Treat others as you want to be treated."
— Officer Brayden Colton
Colton loves helping people and working with kids, not only does he want to develop relationships with the students but also with the faculty here at Alta, "I want people to know that they can come talk to me if they have a problem whether it's school related or something going on at home," Officer Colton said.
Officer Colton also teaches law enforcement and, he sometimes brings co-workers along with him. Law enforcement includes the prevention, detection, and investigation of crime. Colton wants students to understand what they can do to stay safe in all areas of their lives from everything to driving to securing valuables at home and at school.
Before going into the Youth Unit and becoming a School Resource Officer, Colton worked in Patrol for six years. Police officers have four different areas they cover, and Colton covered mostly the Alta area. He has done everything from giving speeding tickets to working with K9s and some police officers even work with the Military.
Officer Colton is ecstatic to work at Alta High School and can't wait to make new friends and create special bonds with the people here at Alta. Colton is so generous and truly cares for people, "Treat others as you want to be treated" Colton said is the "Golden Rule". Officer Colton is more than happy to help, protect and support us, as long as we respect and trust him, he will do the same to you.