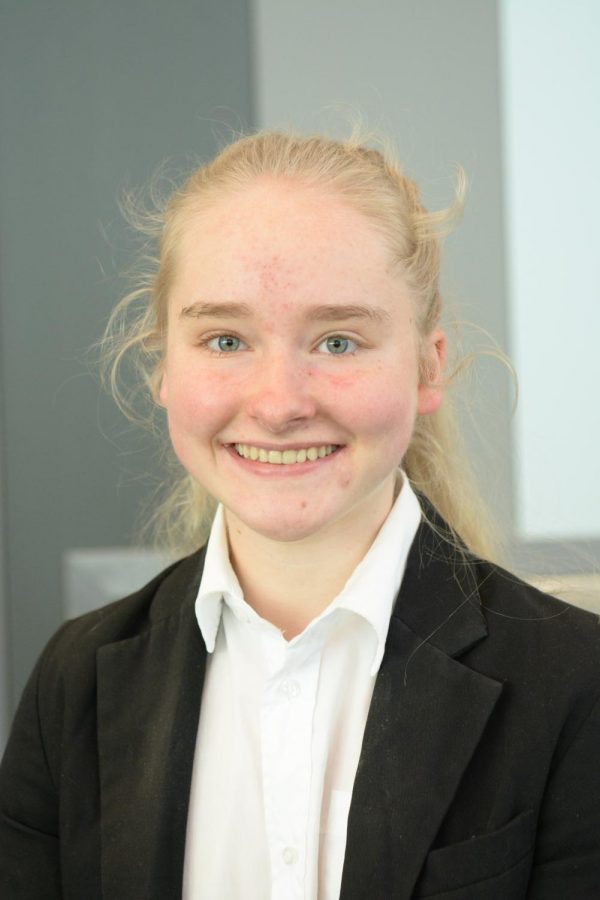 Alta Senior and State Business Sterling Scholar Emily Erickson Reflects on High School Experiences
Alta Senior Emily Erickson won the title and scholarship of State Business Sterling Scholar after winning the final round of a nearly four month competition process, in a partial culmination of many years and countless hours of work— "Partial," said Erickson, "because I don't plan on stopping with business any time soon."     
Reflecting on the various endeavors and efforts that she made throughout highschool in pursuit of her own business goals and ambitions, Erickson remarked, "You know, I actually wasn't ever even planning on applying — and much less winning— to the business category for the Sterling Scholar while I've been at Alta. 
"I really think that the largest contributor to the success which I experienced was found not in the fact that I did have high academics or lots of community service, although it definitely was super gratifying to get recognition for those kinds of things when its usually all about sports. but in that I was able to communicate and show just how much passion I have for business as a whole throughout my time in high school—and I think the selection committee really saw, felt, and related to that."
Early in the summer of her junior year, Erickson began an internship with the Bank of America, after which she made the decision to start an online business. "I saw a ton of opportunities in a kind of niche market for clothing sold cheaper than if you were to buy it from a typical retail store. It was a really great opportunity to try and expand the boundaries of not just the hands-on experience that I have, but also to really get a kind of feel for what I would be doing, and I'm so glad that I took it, because I absolutely love it."
Erickson's involvement and introduction to the world of entrepreneurship and business came on two fronts. She first had the opportunity to interact with various local businesses through her participation in aerial performances early on in high school. "I probably spent over one thousand hours at local aerial arts training facilities. Just being with and around local business owners, hearing and seeing their experiences from the day to day was a huge inspiration to me.
"The other major inspiration and influence on my interest that I developed in business was my dad. He's a business systems analyst, and he was kind of the gateway for me to begin that journey as well. Personally, I'm more fascinated by the system optimization side of things, and I actually wrote and published a book on that subject last summer."
Erickson also mentioned that her interest in systems optimization has had a significant influence on her plans for the future. "I'm currently planning on studying industrial engineering when I enter college. The intersection of that and its relation to business and entrepreneurship is honestly just so exciting to me."
"I really love figuring out how to make systems as efficient as possible and work as best as possible, so I think that while my interest in large part may have started from just watching my dad, that motivation and drive has slowly come to be defined by my own desire to just do my part to make things better, to improve the world, and to make an impact for good—whether that's in addressing education reform or working within the world of medical and healthcare, or something else entirely."
She reflected again on the journey she took with business through highschool. "Honestly, the things I've learned have changed the way I kind of even approach life. The benefits of the entrepreneurial mindset are very real. I've learned to begin creating my own opportunities, turning ideas into action. As such, I now view setbacks as nothing more than challenges to overcome."
Offering advice to the rest of the Alta student body, she said, "I never would have thought I'd advance so far, so just submit an application and see where it goes! You might just surprise yourself. And really, really go out of your way to take what you're learning in school and apply it to self driven project based learning endeavors. Take what you're learning and apply it to things outside of the classroom. That doesn't have to mean writing and publishing a book on systems optimization; do what works for YOU!! It's really made the difference for me, both in school and for the rest of my life."