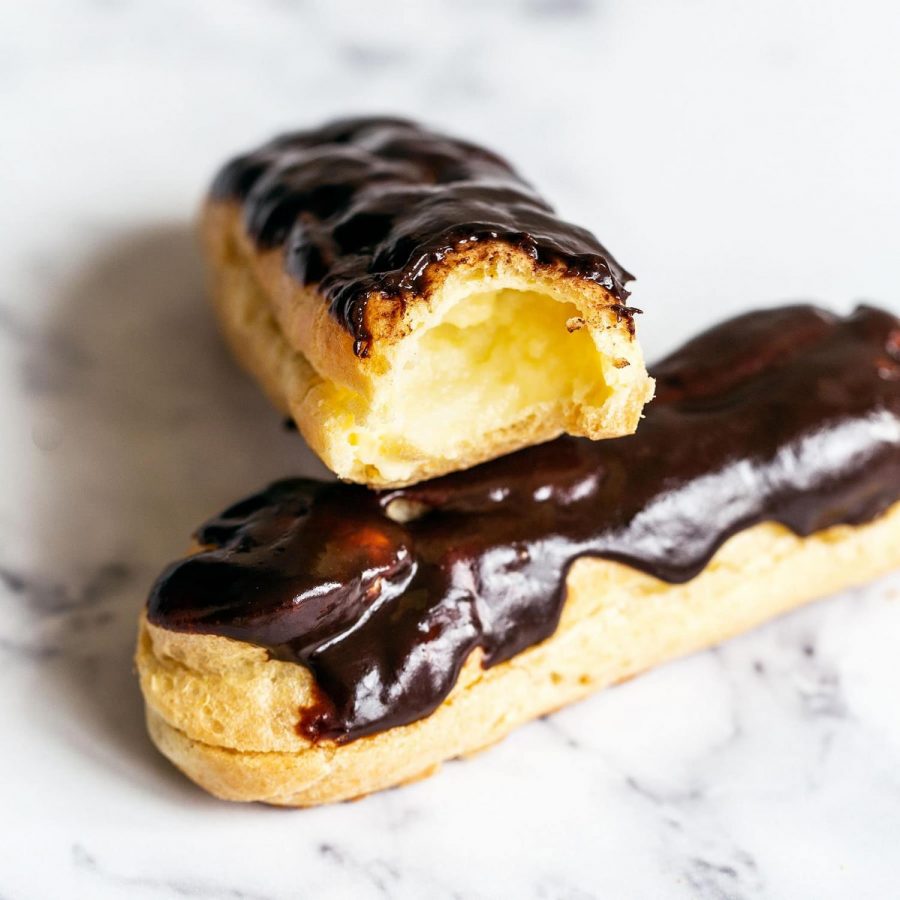 Eclairs: Delicious Elegance
Eclairs are a delicious pastry from France. They are filled with vanilla bean pastry cream and topped with chocolate ganache. While chocolate ganache is the typical topping, they can also be made with other flavors. So let's learn how to make eclairs! 
I found this eclair recipe from Natasha's kitchen. This particular recipe takes a total of approximately  2 hours, 40 minutes for prep time, 50 minutes for cooking, and 30 minutes for cooling. This may sound intimidating because it takes a decent amount of time, but the skill level is medium and it will only cost $10-$15 for 18 delicate French eclairs! 
The ingredients for the Choux pastry, the dough, are as follows:
½ cup of water
½ cup of whole milk
8 Tbsp of unsalted butter
1 tsp of granulated sugar
¼ tsp of salt
1 cup of all-purpose flour
4 large eggs
To make the Choux pastry, bring the water, milk, butter, sugar, and salt to a boil in a medium saucepan. Once it boils, remove from heat and stir in all the flour. After all the flour has been mixed in, place back on medium heat for 1 ½ – 2 minutes while stirring occasionally to release excess moisture. Next, transfer this mixture to a large mixing bowl and use a hand mixer on medium speed to cool down the dough slightly for one minute. Once it is slightly cooled down, beat in one egg at a time. Allow the egg to be fully incorporated before adding the next. Continue to beat until the dough is smooth and forms a thick ribbon when lifted. Next pipe the dough onto a silicone lined baking sheet using a ½ inch round tip. Pipe out 18-20 eclairs while keeping them approximately 1 ½ inches apart. Finally, put them in the oven at 425 degrees for 10 minutes. Without opening the oven, reduce the heat to 325 degrees and cook for another 30 minutes, or until golden brown. Once they are done, transfer to a wire rack to cool.
Now let's get started on the pastry cream!
The ingredients for the cream are:
2 cups whole milk
2 tsp vanilla extract
¾ cup granulated sugar
¼ cup cornstarch
1 pinch of salt
4 large egg yolks
4 tbsp of unsalted butter at room temperature
To start, bring the milk and vanilla to a boil in a medium saucepan, make sure to stir this frequently so that a film does not form. In a large bowl, whisk together the sugar, cornstarch, and salt. Add the yolks and whisk until smooth, creamy, and lightened in color; this may take some time. While whisking constantly, slowly add hot milk in a steady stream until incorporated completely. Pour the mixture back into the saucepan and whisk constantly while bringing to a boil until mixture is a pudding like consistency. Transfer the cream into a medium bowl and quickly whisk in chopped up butter and vanilla until fully incorporated. Cover the cream with plastic wrap after it slightly cools down and place it in the refrigerator for 30 minutes, or until it is cool. Once cool, use a small pastry tip and insert the cream into the pastry. Scrape off excess cream and place the eclairs into the fridge while we make the chocolate glaze.  
For the chocolate glaze the only ingredients we need are 4 oz of semisweet chocolate chips and ½ cup heavy whipping cream. Put the chocolate chips into a heat safe bowl. Heat the cream, in either a saucepan or the microwave, until it is simmering. Pour the hot cream over the chocolate chips and let rest for 2 minutes. After it rests, whisk from the center outwards until it is a smooth sauce. Dip the top half of the filled and cooled eclairs into the chocolate glaze, allow the excess to drip off, and we're done!
I hope you enjoy your delicious French eclairs and have fun making them!