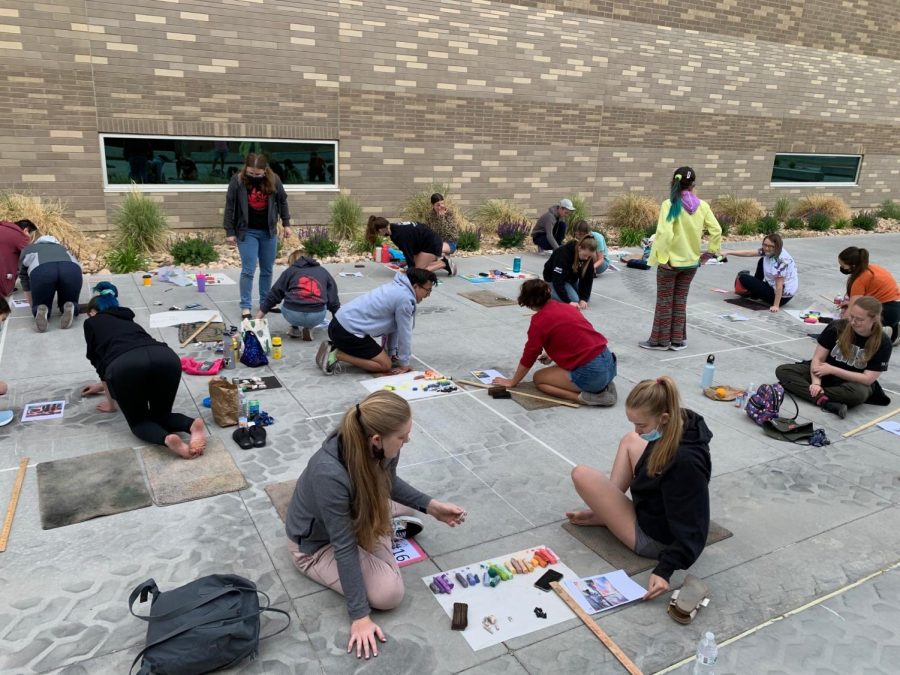 Chalk The Walk Cut Short by Rain Storm
Some things just don't mix and chalk and rain are one of them.
This year's Chalk the Walk, a 36 year Alta Art Department tradition, started strong, but the rain put an early end to this year's masterpieces.
Despite a 30 percent chance of rain in the morning, the Chalk The Walk competition began. Art teacher Denise Crane said that "a couple of artists hung in there, tented up their art work and worked clear to the end."
In spite of poor weather, students were able to develop their pieces centered on the "Transportation" theme and create some beautiful renderings.
Jordan Cai and Lauren Gehrett started that morning hoping the rain wouldn't damper the day. In spite of the drizzlrs, they had a great time. Jordan particularly liked seeing everyone's artistic abilities shine. Lauren agreed.
"It was super fun," she said. "I will definitely do it again next year.
Students use Chalk The Walk as a way to let their creativity flow free. Crane refers to this competition as "a great kick off to summer." She says she loves to see all the work that students created and enjoys the process beginning with the theme, art selections, and then the actually creation itself.