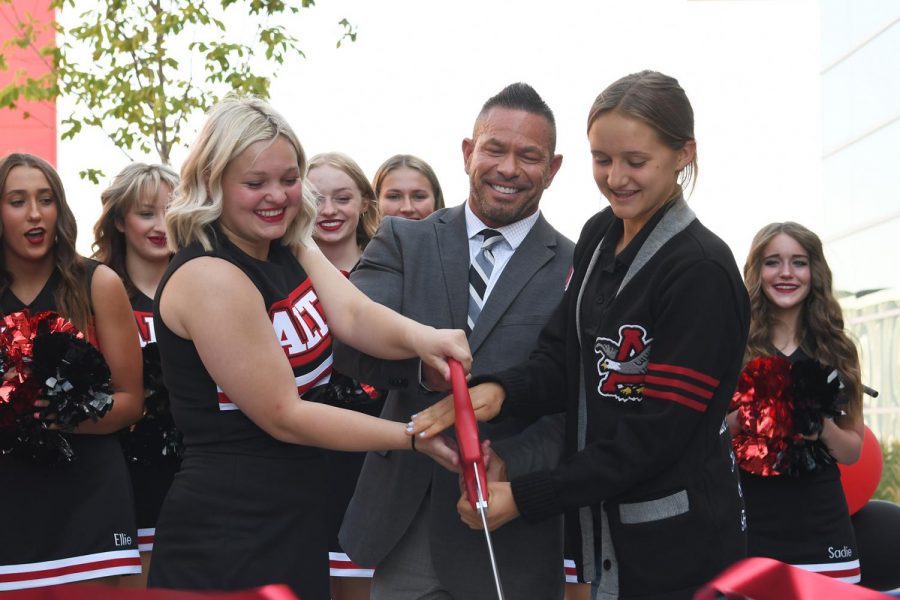 Ribbon Cutting Symbolizes New Era, New School for Alta Students
Alta Administration , Canyons School District officials, and Sandy City guests cut the ribbon ushering in a new era for the Alta community August 12.
Sitting in the shade of the new patio, sandwiched between the old school and the new Performing Arts Center, guests listened to remarks by officials explaining the long road that brought Alta to this point in time.
School Board Member Amanda Oaks acknowledged the remodel and huge upgrades happened because district residents approved a $283 million bond for numerous school improvements including total rebuilds of both Brighton and Hillcrest High Schools. Oaks said that with the birth of the Canyons School District in 2009, "voters made clear the need to bring aging schools up to equitable learning and safety standards."
"Since that time 17 schools have been newly rebuilt or renovated," Oaks said. "Six other schools have seen upgrades to the front offices, and 18 schools benefited from projects to add skylights and infuse classrooms with the benefits of natural light.
None of the remodel would have been possible without the vision of VCBO Architects and the constant construction from Hughes General Contractors. District Official Leon Wilcox said the construction crews have pulled off "miracles" to keep the Alta rebuild on track.
Principal Brian McGill concluded the ceremonies with a few remarks thanking the community for their patience and understanding as the rebuild has taken shape. He then organized three ribbon cuttings for photos. Student Body President Autumn Engstrom and Head Cheerleader Annie Brimley stood in for the students and cut the ribbon ushering in a new school.