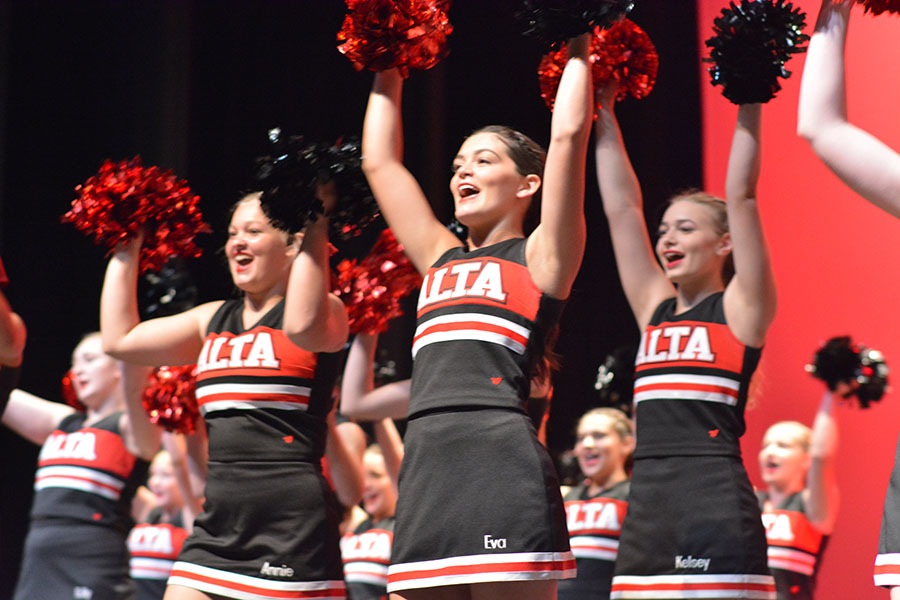 Welcome back Hawks: First Week Concludes With Welcome Assembly
Students end the first week of school with a fun filled assembly that symbolized the school year is off to a "normal" start.
Technical difficulties aside, this year's Welcome Assembly was a wonderful break from Covid's abnormalities. Incoming freshmen are excited to be able to have a normal year, but one freshman comments on the fact it's "too early to assume this will be a normal year."
Henry Hohl began the assembly with an unprecedented banjo performance of the National Anthem. 
Crowd favorites included the student government skits and the Dance Company, Cheer, and Ballroom performances. The skits were inspired by Napoleon Dynamite, Marvel, The Office and Scooby Doo.
Senior Senator Abby Hansen said that the student government bonded over putting together the assembly and she thought
"
It was super fun to "see everyone be so creative."
— Abby Hansen
The Alta Drumline always tends to wow the crowd, receiving tons of positive feedback and lots of cheers. Many students said they were impressed and thought it was so cool. 
Ultimately, the students were thrilled to have a normal welcome assembly for a normal year. The Student Government is doing all they can to ensure this year is as fun and safe as it can be.