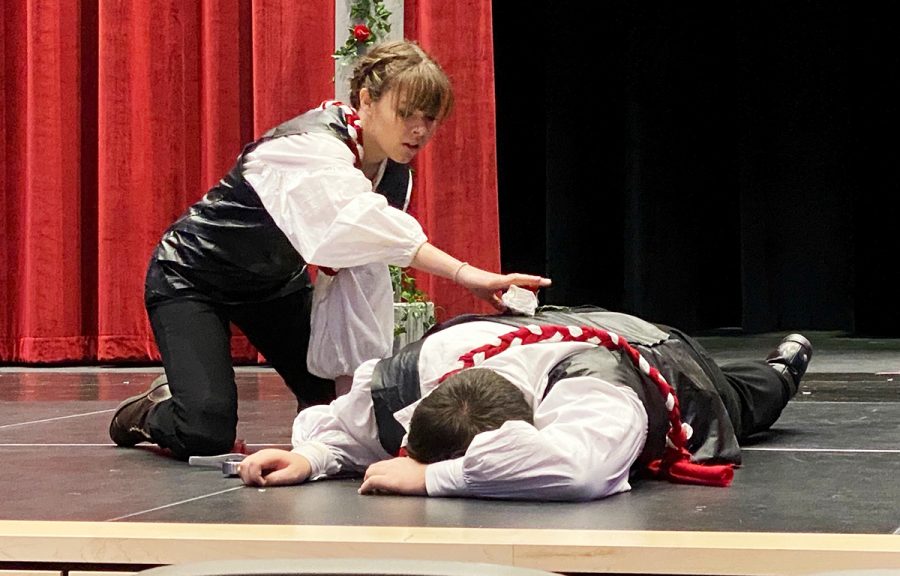 Students Gear up for Fall Shakespeare Performance
Live student performances are back and this year's Shakespeare team is hard at work.
"
The lines all have a meaning behind them, so I usually find the meaning behind the Shakespeare and read through it and go line by line." "
— Ruby Gardner
Covid-19 changed so many lives in different ways and especially in school. Last year students had to deal with many covid precautions; making performing, practicing, even getting started extremely hard. This year schools are lucky enough to have vaccines that make working together much easier and safer. 
Ms. Struiksma had to rethink how she should approach teaching theater and directing her students. She said that Covid has made life in the theater world a lot harder than before. Theater can be challenging and takes a lot from the participants. "If there's one thing they've learned from the challenges they faced with covid, it's to let go of things they cannot control," she said.
"
The opportunity to work with such dedicated and hardworking students has made this experience wonderful. Alta has an incredible theatre program, a fantastic new building, and a rich history in the performing arts"
— Noah Martinez
This year, the team is doing a large ensemble piece from Henry the Fifth and competing in Cedar City, something that Covid prevented them from doing last year. The students are thankful that the live performances are back since having to stay home and do virtual performances!
The students are extremely excited to get back to work. Their lives have changed in many ways overnight but the passion, motivation, and work ethic live on. Getting ready to hit the stage could be hard after a long time of being home and doing almost everything over the phone, but with the help of their amazing teachers and peers they'll put up an amazing performance for all of us to enjoy and remember. 
The theater department is putting together its annual live Shakespeare performance once again.