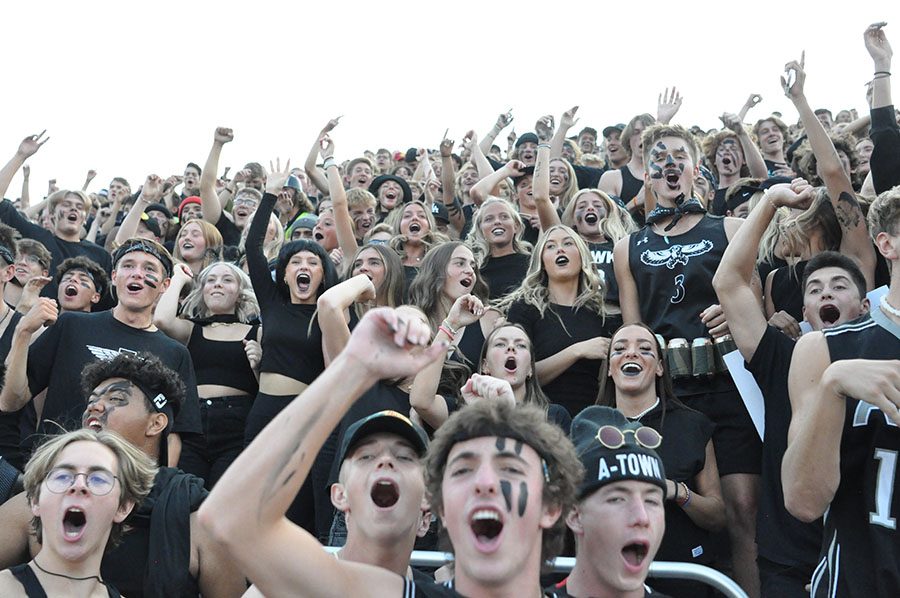 Student Section Returns After Long Wait
For the first time in what feels like forever, Alta had its first home game against Westlake. On Friday night, students filled the stands excited to be at a football game! Freshmen and seniors alike,  Alta students packed the student section for the first time in over a year.
Students were glad to be back, to hang out with their friends and cheer on our team. Shoulder to shoulder on the bleachers everyone was able to meet new people and have a great time. Each student has their own favorite part of the game, whether it be the unity, the hype, or even just the concession stand.
To Senior Senator Abby Hansen, the best part of an Alta football game is the "amazing atmosphere that cultivates a lot of friendships." That friendly and excitable atmosphere was definitely present on Friday night. 
Even with a rough game 13-27, Alta students made sure to cheer their team on.
Attorney General Jake Johnson points out that the student section was "way hype and everyone was actively cheering", especially around halftime and the beginning of the game. 
Alta is happy to be back and ready to have a wild season this year! Students are sure to hype up our team, and hopefully, we will have a successful season!