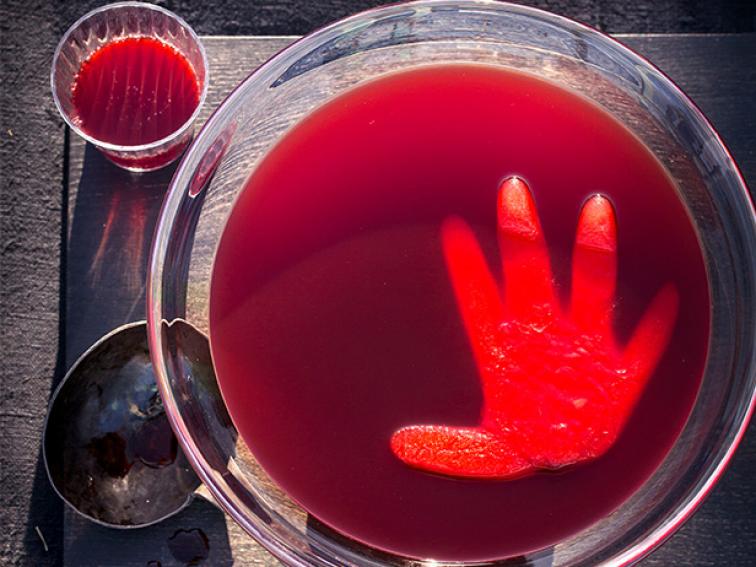 Food Network and Pioneer Woman
Halloween Snack Series: "Bloody-Hand Punch"
For a fun, and easy punch made especially for Halloween, this will definitely have a spooky sight for your guests! With a hand floating in the center of the punch, you will definitely have quite a TRICK, and a TREAT!
This is how you make it:
Ingredients:
1 liter of Sprite (refrigerated).
1 gallon of orange juice (refrigerated).
Torani Cherry Syrup to your taste buds likings.
6-10 limes (refrigerated)
1 small jar of maraschino cherries (refrigerated or frozen)
7-11 drops of food coloring.
1 powder free plastic glove.
To make:
Add about 3/4 of the glove with sprite, add a squirt of cherry syrup, and the rest of the way with orange juice.
Place in the freezer for several hours.
About 15 minutes before the party, fill up the punch bowl with the entire liter of Sprite, the half gallon of orange juice, cut up the limes and add them to the punch, and add the entire jar of the maraschino cherries to the punch, and add the cherry syrup to your liking.
For the red color, add one drop of red food coloring, and stir until the punch looks blood-red.
Stir the punch, but not too heavily because of the Sprite, and cut the glove off of the frozen hand.
Add the hand to the punch.
Enjoy, and freak your guests out!