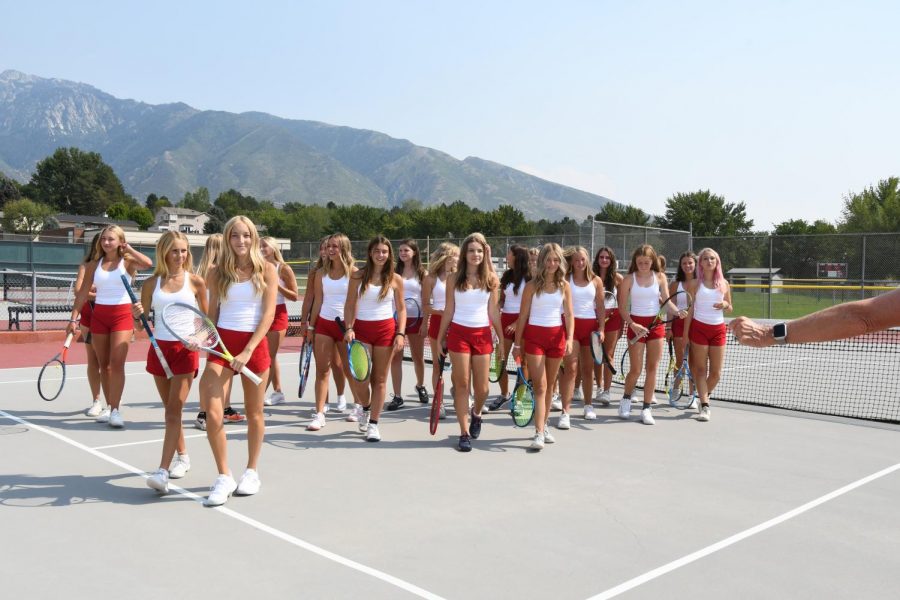 Girls Tennis Team on a Roll and Having a Blast
The team sits at third place in region competition
With the school in full speed, Girls Tennis is up and running!
With only three losses this season, the team sits at third place behind Timpview and Orem in region competition
Girl's Tennis takes extreme dedication as well as patience and perseverance. the girls also enjoy the bonds and friendship they share.
"I LOVE the team, said senior Lucy LeSueur. "They are my best friends!"
Kate Debry agreed. The team's bond is unbreakable. The girls love the sport and playing together.
To be a member of the team, players must focus and practice and work hard to improve. "It takes hard work and patience," said Rebecca Russell. "Patience is key to winning tough matches."
"They are doing pretty well in the matches," said head coach Lory Sperry, "They are kind to everyone and have great integrity. I love that we have eight seniors on the team that show great leadership. Our theme this year is 'Leave it all on the court'."
There's still much of the season left to play and the team is on a roll and determined to move up in the region standing.