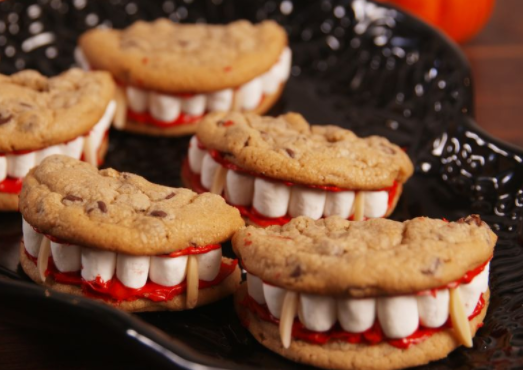 Halloween Snack Series: "Dracula Dentures"
Halloween is around the corner; it's time to whip up some fun and "creepy" snacks.
For a fun and easy Halloween cookie, try these "Dracula Dentures" first presented by Delish.com in 2017. It has been a couple of years since this recipe was published, and this one is worth a second look.
Here are the ingredients. If you do not want to actually make cookies from scratch, use tube cookie dough. If you want to make chocolate chip cookies from scratch, you can easily find a recipe online or on a package of chocolate chips.
1 Tube chocolate chip cookie dough
1 Can vanilla frosting
Red food coloring
Mini marshmallows
Slivered almonds (for the teeth)
Cookies:
1: Preheat oven to 350°.
2: Line two large baking sheets with parchment paper.
3: Get a mini ice cream scoop, and scoop about 1 1/2 inch spheres.
4: Bake for how long the package says, or 12 minutes until golden.
5: Let the cookies cool completely (6-7 minutes) and cut in half.
Frosting:
1: After the cookies have finished cooling, mix a few drops of food coloring into some white frosting.
2: Mix well.
3: Spread the frosting onto the cookies in a thin layer.
Marshmallows:
1: Put some marshmallows onto the cookies, and cover completely on each half of cookies. (one cookie half will just have frosting on it at this time)
2: OPTIONAL: Put an almond sliver where the vampire teeth should go, if needed, put a thin layer of frosting on the teeth part to help the almonds stick.
3: Put the remaining cookie halves onto the teeth part of the cookies.
4: ENJOY!