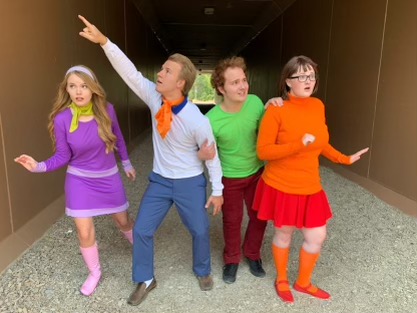 Students Transformed into Iconic Disney Characters
Angels Hands Charity Event October 2nd! This is a public event!
Angel Hands is a non-profit organization that helps children with rare diseases. Every penny is sent to help pay with their hospital bills, medications, etc. Lacy Foulks, decided to help out with creating a wonderful part of the charity called "AH Characters.". AH Characters is full of college and high school students that can act, sing, and dance. These students are transformed into lovable Disney characters. The kids are in love with the characters, and this year on October 2nd at 8700 10305 S, Copperton, UT 84006 there is going to be a Disney Villain Event.
The event is for the public. There are over 35 teenagers that are going to become some of the villains that people love to hate. Some examples of these characters are: Cruella, Maleficent, The Sanderson Sisters, The Scooby Doo Gang, Draco Malfoy, and so many more!
Here's what the characters had to say.
Interviewer: What is it like to be in Angel's Hands Characters?
Annie Kemp: "It's so fun and accepting. I feel like I'm a part of a family and I also feel like I'm making a difference in this kids lives!"
Interviewer: What character do you play and what is it like?
Hannah Stark : "I am playing Sarah Sanderson for the villain event! It really humbles you to be in AH. It is like a dream come true helping AH, I am giving back to the community that has given me so much!"
Interviewer: What character are you and what is AH characters to you?
Ella Gardner: "I play Drizella, Cinderella's Wicked Step-sister. AH characters is an opportunity to help change children's lives for the better. It's a way for us to make a difference and leave our mark on this world."
October 2nd will be the Disney Villain event. The Address is 8700 10305 S, Copperton, UT 84006. This is a public event!