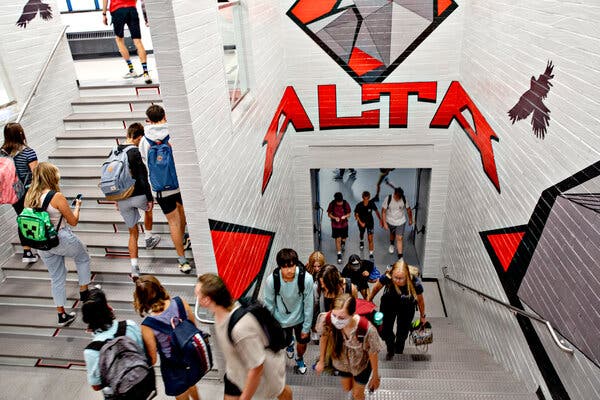 Teachers aren't the Only Ones Frustrated Over Recent Student Behavior; It's Everyone.
Has good behavior gone missing from the classrooms?
Every school year brings changes, but this year teachers noticed that overall classroom and school behavior has taken a nosedive.
The "devious licks" challenges, promoted by social media giant TikTok, didn't help. This "trend" encourages students to steal or vandalize school property, in an attempt to pull off the biggest "lick."
Some teachers report an uptick in bad behavior in class. In fact, nationwide teachers report that behavior expectations are not being met; it's not just an Alta thing. Writing on the teacher app Fishbowl, one California teacher credits lack of socialization during Covid lock down and abundant online schooling as the cause for poor classroom behavior. "Student behavior is at least a grade level behind this year," the teacher observed.
As a result, many teachers find themselves teaching simple mannerisms and respect on a daily basis just to get students ready to learn. Alta administrators acknowledge that students are experiencing "skill deficiencies" in meeting overall school behavior expectations. Teachers understand that some students have been out of the classroom for a while, so spending time to remind students of classroom expectations is an ongoing task.
"
People are  excited to be back in class this year so behavior seems a bit worse. Covid also gave people an excuse to be lazy with school."
— Haylee Holbrook
Additionally, students and teachers are witnessing some overall bad behavior in society at large. The divisive political climate and disagreement among the general population for the last 18 months has also had an impact.
The teachers and administrators are trying their best to get everything under control. For the devious licks that students are doing the administrators are marking them down to resolve this issue they have caused. The issue is getting really serious and schools find themselves dealing with such issues legally. 
Alta Principal Brian McGill said the disruptive and destructive behavior this year is a huge disappointment. "It is just sad to me that kids will choose that [destructive behavior] and lose sight that there can be some long term consequences."
McGill notes that students put future jobs and careers in jeopardy when they vandalize school property.
"If you have a record and get charges pressed against you, you now have to report that out every time you apply for a job, scholarships, financial aid," he said. "I do not believe kids realize that can have a short and long term impact for the rest of their lives."
Psychology teacher Andrew Farnworth said life has changed so much and it has affected the way students think, do things, act, etc.
"Teachers have noticed an increase in bad behavior among the students," he said. "Part of the reasoning behind this is being in lock down for so long and only being surrounded by the same people. It's easy to get used to your environment after such a long time and that's what it looks like this year." 
Coach Izzy Gustafson has noticed students are distracted, not as engaged, and disinterested this year.
"Last year was all reduced material because our quarters were shorter and so our learning was not as fulfilled as the previous years," she said. "They [students] are less interested and less engaged."
Teachers are aware that this year's seniors are the only students in the building who have experienced a completely 'normal' high school year. One teacher said it will take a while for students to get the swing of what 'normal' feels like, and that includes remembering how to behave respectfully to everyone and everything, including the building itself.
For now, teachers and administrators admonish students to be smart and avoid devious behaviors suggested by social media.