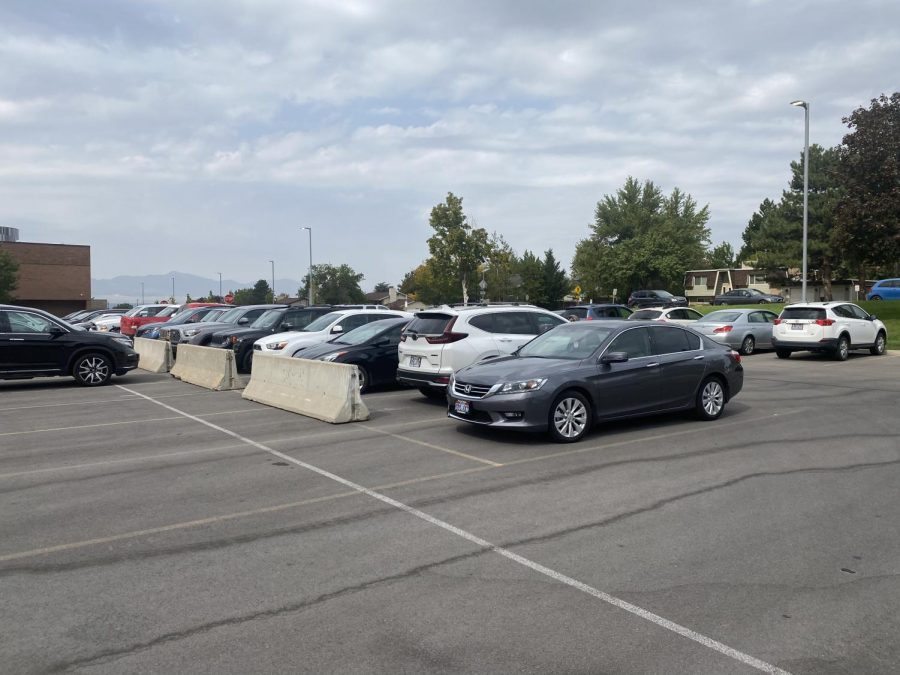 40 New Parking Spots Provide Relief to an Over Crowded Student Lot
Troublesome student parking gets help with new spaces sectioned off in the faculty parking lot in the north east corner of the school.
Alta's student parking is a problem. With a population of 2,303 students, one would think the school would have maybe half that amount for parking. But it's not even close.
The school has 750 parking passes available to students in total with only 699 spots purchased.  If the school still has 51 parking passes available, many Alta students can't help but wonder, why is the parking lot so crowded?
That overcrowding may just have improved with 40 or more spots opening up on the north end of the faculty parking lot.
The recent placement of cement dividers on the last two rows of the parking lot mark off an area designated for students. According to Security officer Marion Montoya, those spaces can be used for student parking, all day if the student has a parking pass. "You won't get a ticket," Montoya said.
Assistant Principal Steve Bailey also confirmed that students can now park in the designated two rows in the back (faculty) lot. Although it might not seem a lot to others, Alta students know two rows is a lot.  
If these new spaces don't alleviate the problem, there may be other solutions.
Some have questioned if assigned parking would be a great option. Former Alta student, Sarah Condie, who now goes to Snow Canyon High School in St. George reports that she has assigned parking!
Condie has positive things to say about it. She said that the school has a smaller parking lot designated for senior students.
"It's a lot easier to get in and out," Condie said. "Plus you get to pick a nickname and they spray paint that name on the spot with a stencil." 
Alta's parking permits are first come first serve. Getting an individual parking space is the same at Snow Canyon; however, it is done online and students don't have to put a parking sticker on their cars. Every parking spot is numbered at the parking lot which makes it easier for students when they sign up and select their spot. 
Asked if she preferred this way of parking over the parking lot at Alta, Condie said, "I was always late at Alta because I could never find a spot in time or I'd have to go to driver's ed, so having a guaranteed spot is a big relief to my stress."
Her parking pass costs $30. That's $20 more than Alta's, so is it worth it?
According to Condie, that's a definite "yes."
In Addition to the senior parking lot, they have more parking lots for other students and faculty. There are no parking passes required so sophomores, juniors, and seniors who don't get parking passes can park there, making it more convenient for all students.
Time will tell if the 40 new spots will help with parking lot overcrowding. Mr. Bailey hopes it will do the job.
Signs have been ordered and will be placed in the future, designating those north rows as student parking.