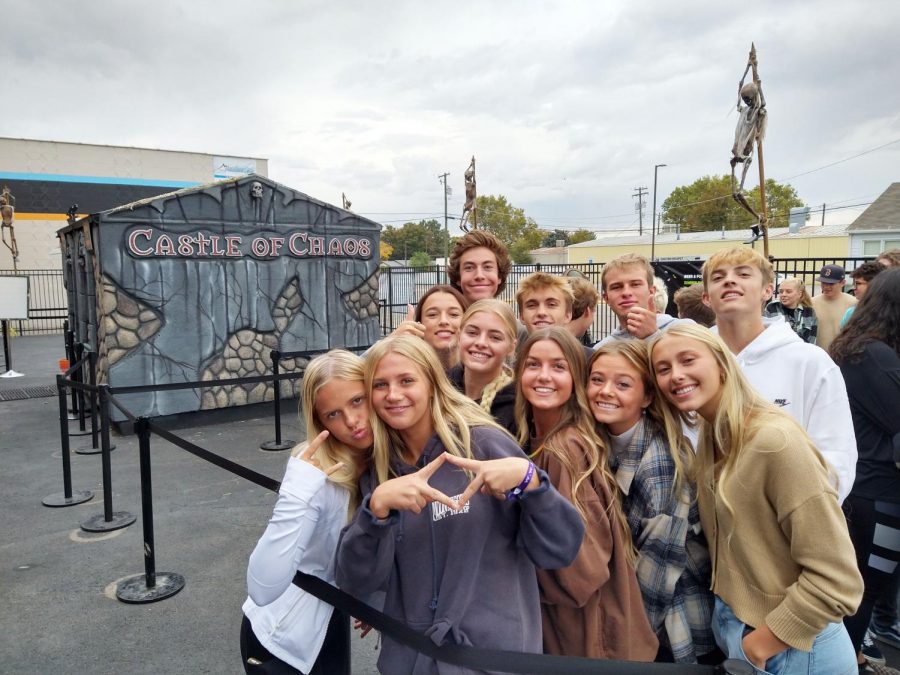 Gear Up for Haunted House Season
If you are ready to celebrate the season, grab your friends and check out Utah's amazing haunted houses.
We all love a good scare, especially in October, and haunted houses are the best way to feel the rush of fear. Here's some of the best haunted houses in the state.   
CASTLE OF CHAOS
The number 1 haunted house in Utah is Castle of Chaos, located in Salt Lake City, with all your worst nightmares come to life as you walk through the underground building. Castle of Chaos has four levels of fear. 
Level 1: Monster be Gone – where monsters keep their distance, repelled by a glowing wand. 
Level 2: The Haunt – The most common, where scarers jump and chase but not touch. 
Level 3: Hands of Horror– with a glowing green bracelet monster know to get physical, prepared to get touched by scarers or props, however monsters can not separate people from their groups. 
Level 4: X-Scream Hands on Horror – not for the faint of heart, prepare to be moved, touched, soaked, and/or tied up. (16+)
Level 5: Ultimate Hands on Horror – an EXTREME haunt so terrifying it requires waivers and id to participate, this waiver says that haunters are allowed to grab, use intense language, inflict property damage to belongings, and so much more cruel things. (this is only for people 18+)
ASYLUM 49 HAUNTED HOSPITAL
Number 2 is Asylum 49 Haunted Hospital, located in Tooele. The hospital formerly called Tooele Hospital served the sick and mentally ill. Then it turned into a nursing home. They had very strange occurrences in the home, including seeing nurses that weren't on staff and patients refusing to walk down the hall because they saw shadows. People have claimed to see a black figure climbing up walls and through the halls. Now, it's a haunted house, with tours of the facility and live ghost hunts. 
FEAR FACTORY
Number 3 is Fear Factory, located in Salt Lake City. Previously the Portland Cement Factory that was forced closed after four gruesome and unexpected deaths. Now it is a haunted house with 6 story towers and 2 underground passages. Fear Factory has four main attractions.
Touch of fear  – a hands-on experience where monsters take a hold of you as you make your way through the factory.
Fear Sphere – a new ride that defies gravity in a multi-axis gyroscope. 
Last Ride Zip line – soar over the factory with a 300 foot zip line.
The Fear Fall – peer off a 60 food ledge before you take the jump.
NIGHTMARE ON 13
Number 4 is Nightmare on 13, located in Salt Lake City. It is a no contact haunted house that changes themes every year. This year they have three main attractions.
Dark Ride of Terror – a carnival ride that is run by killer carnies 
Nightmare Alley – an area before the haunts that contains darkness that breeds your darkest nightmares. 
I-scream– Clowns run an ice cream factory and brand with who knows what sort of ingredients.
NIGHT STALKERS HAUNTED TRAIL
Number 5 is Night Stalkers Haunted Trail, located in West Jordan. It is one of Utah's longest and most unique haunted trails. The trail contains four different attractions. 
Children of the Corn – A corn maze filled with  creatures of the dead.
Phobia – an area where every fear comes to life. 
Slumber – A 3-D experience featuring your worst nightmares 
Horror Show – A tortuous performance of chaotic clowns