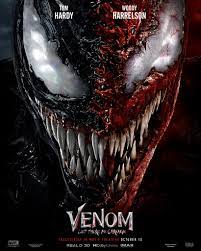 "Venom: Let There be Carnage" Watch or Avoid?
Is the movie, Venom: Let There be Carnage, worth your time?
Venom: Let There be Carnage, is an action-packed comedy with memorable moments in every clip. The cinematography throughout the film is superb, along with the comedic timing.
This Venom movie stars actors Tom Hardy, Woody Harrelson, Peggy Lu, Michelle Williams and many more.
The movie follows Eddie Brock, played by Tom Hardy, who is still struggling to coexist with the shape-shifting extraterrestrial (of or from outside the earth or its atmosphere). Venom, lives inside of him. When deranged serial killer Cletus Kasady, played by Woody Harrelson, also becomes host to an alien symbiote, Brock and Venom must put aside their differences to stop his reign of terror.
Eddie and Venom have to get over their issues and find the serial killer to prevent him from causing trouble and destroying the city. Along with the relationship issues Eddie has with Venom, he is also trying to get over breaking up with his fiance, who is now engaged to someone else. Overall, Venom: Let There be Carnage, is a watch.
"
It's hard to overstate just how much the relative success of this film comes down to Hardy and his go for broke performances as Eddie and Venom."
— Lindsey Bahr, Film Critic
Critic reviews:
"Silliness was the first film's strength, which everyone involved seems to have realized and leaned into hard for the follow-up." 
"… wastes no time setting up escape sequences, showdowns, and bromance quarrels… delivers exactly what the previous mid-credit introduction of Woody Harrelson promised… and sometimes that's exactly enough."
"This sequel is a violent, very sloppy, yet entertaining battle through couples counseling for Tom Hardy's Eddie and his symbiote."
"It's hard to overstate just how much the relative success of this film comes down to Hardy and his go for broke performances as Eddie and Venom."