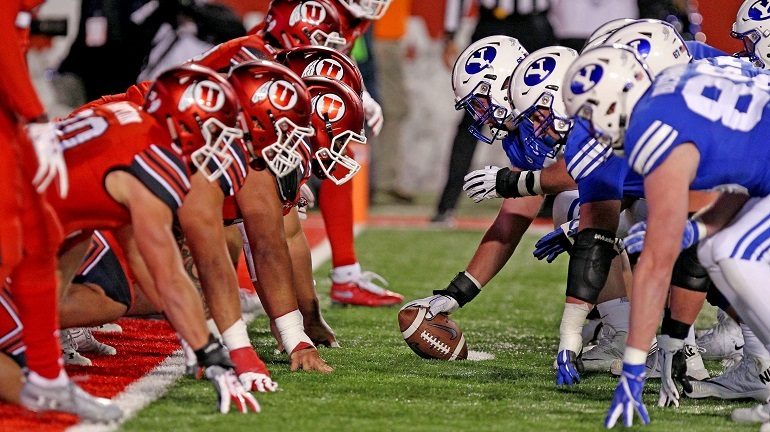 College Football Update
University of Utah 
The University of Utah football team is off to a 4-2 start. They have had decisive wins over Weber State University and USC and a couple of close wins against Arizona State and Washington State. Utah has two losses. Both came in consecutive weeks to BYU and San Diego State. 
Utah is coming off of a huge win against one of the highest ranked teams in the PAC-12, Arizona State. Looking ahead to the Oregon State game, the Utes are projected to win by 3 points. This will be a difficult test because it's a road game, but it will be highly rewarding if they are able to come home with a win.
Alta High School Students are excited about the Utes football season. Joel Ramirez stated that, "[He is] excited about being undefeated in the conference so far. It's a huge step in the right direction for a successful season."
With a win, Utah will progress to 4-0 in conference play for the first time since 2010 and the first time in their PAC-12 era. 
BYU
BYU started the season off strong with a 5-0 record. Since then, they have lost two consecutive games to Boise State and Baylor. Looking ahead to this week, they are playing Washington State. BYU is expected to win by about 4-5 points. This is an interesting match up, considering Washington State has lost five members of the coaching staff this week. There is a lot of chaos in the Washington State program and BYU has the opportunity to capitalize on this and get momentum back in their favor for the rest of the season.
BYU fans at Alta High School are excited about the success of the football team and are hopeful for the rest of the season.
Constance Van Woerkon stated that, "The highlight of the BYU season was either beating Utah or when Tyler Allgeir punched the ball out of the ASU player's arms to force a fumble". She is looking forward to cheering for the Cougars going forward and believes that they can get back on track.