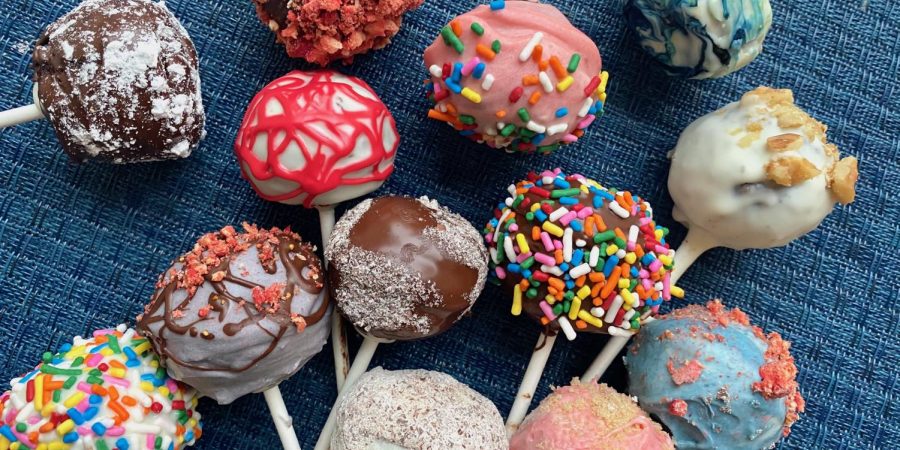 Recipe of the Week: Cake Pops Offers a New Baking Opportunity
When it comes to desserts, one of the less common treats are cake pops. Cake pops are a delicious treat made from cake and frosting dipped in chocolate. While they're hard to find at the store, this recipe will show you how to make your very own!
CAKE
INGREDIENTS
6 tablespoons unsalted butter (softened to room temperature)
2/3 cup vegetable oil
2 cup sugar
1 tablespoon vanilla extract
2 2/3 cup all purpose flour
1 tablespoon baking powder
1 teaspoon salt
6 large white eggs (room temperature)
INSTRUCTIONS
Preheat oven to 350 degrees Fahrenheit. Grease two 8-inch round cake pans. Beat the butter on medium speed until creamy. Add sugar and oil and beat until creamy. Stir in the vanilla extract. In a separate bowl, whisk together the flour, baking powder, and salt. Measure out your milk, then gradually add the flour mixture and the milk to the butter mixture while mixing on medium speed. In a separate bowl, beat your egg whites on high speed until stiff peaks form. Then stir the whites into your batter. Divide the batter into the pans, and bake for 35-40 minutes.
BUTTERCREAM
INGREDIENTS
1 cup unsalted butter (softened to room temperature)
1/4 teaspoon salt
3 cups powdered sugar
3 tablespoons heavy cream
1 tablespoon vanilla extract
INSTRUCTIONS
Beat the butter with an electric mixer until creamy. Add powdered sugar about 1/2 cup at a time. With mixer on low speed, add heavy cream 1 tablespoon at a time. Then beat on high for thirty seconds. Add the vanilla extract and stir.
COMBINING
INGREDIENTS
1 package of chocolate chips (your preference)
1 package of baking sticks
wax paper
INSTRUCTIONS
Crumble the cake and put it in a large bowl. A little bit at a time, mix the frosting in. You should have a nice cake mixture now. Form it into tablespoon-round balls. Stick the balls in the freezer for about 5 minutes. Melt the chocolate chips in the microwave. Stick the sticks into the balls and dip the balls into chocolate. Stick those onto a wax-paper-covered baking sheet and set them to cool.
Congratulations! Now you have delicious cake pops!