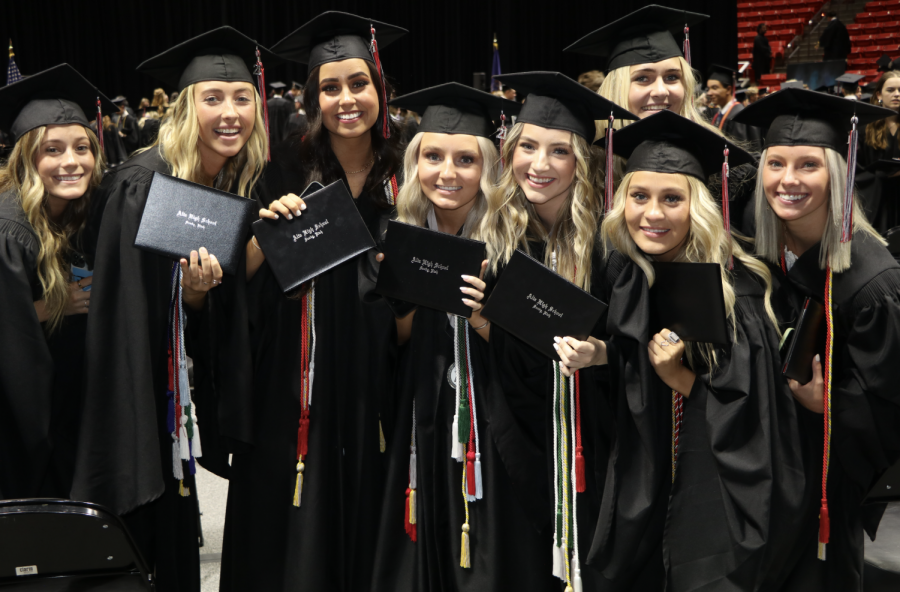 Seniors Look Ahead to the Future
Seniors at Alta prepare for college, careers and other life paths.
College application season is in full swing, as some of the deadlines have already passed and others are right around the corner. Alta High seniors are looking ahead to their future and preparing to take the next steps. From playing sports in college to working right out of high school, there is a wide variety of future plans among the graduating class.
63% of Alta Seniors who participated in a poll about their future plans stated that they want to stay in-state. Staying in state has several advantages. When students attend a school close to home, they won't have to pay as much to travel between home and school, they'll have lower tuition costs, and they will know the area. Many students worry about moving far from home as 18 or 19-year-olds. There may, however, not be as many choices for schools in the state and may not be as exciting as attending a school far from home.
Senior Alex Berry is planning on attending Utah State, but is unsure of what she wants to do yet. She believes she would like to do something with business. Alex is happy to go in-state because of the lower tuition and proximity to her family. She is also excited about the various opportunities that she will have at Utah State University. She went on to explain, "I applied early action because it is good to get your name on the list and I want to join their ambassador program."
On the flip side, 37% of Alta seniors want to go out-of-state. Students who attend college out of state can experience a new culture, have more options when it comes to picking schools, and gain more independence. This, however, does come with a price- literally. Out-of-state tuition is usually very high and it costs more to travel home when you are not living in the same state.
However, many Alta High seniors believe that it is worth the price. Louren Hodges stated that she would like to go out-of-state for college because she "wants new experiences and a more diverse educational journey."
Alta High quarterback, Ethan Jackson also hopes to attend Stanford University and continue playing football in college.  
Nevertheless, college is not the only path Alta seniors are choosing. There are so many other options out there for young adults. For example, various trade schools can set students up for success in certain fields. Khristian Kennington stated he is, "planning to work for a year and then attend trade school". Khristian hopes to pursue a career in jewlery, starting with trade school. 
It's difficult for seniors suffering from very real Senioritis, but these opportunities are a driving factor in keeping up with their school work in order to graduate.